Epoxy resin is remarkably adaptable. Resin is commonly used in model-making, kitchen countertops, and flooring in addition to being utilized to create paintings, jewelry, sculptures, and pendants since it is flexible, tearing-resistant, simple to use, and easy to clean. With the use of numerous tools and accessories, casting is made possible while working with resin.
In this article, we'll be having a look at some accessories epoxy can produce:
Cigar Ashtray and Coaster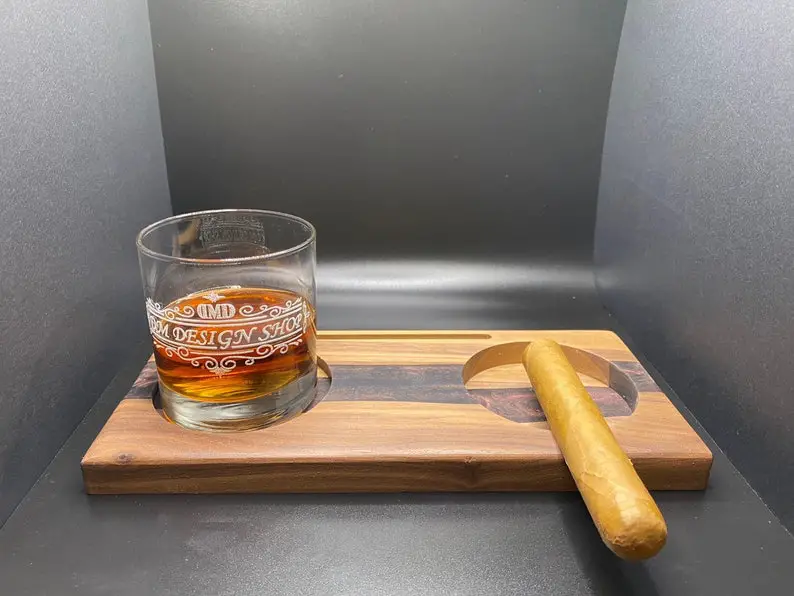 Source: Etsy
It is made from a unique Walnut with a Black Cherry Epoxy accent. Any person who likes cigars would do well to choose this. Add a glass with your favorite monogram or brand to make it more distinctive.
Black Marbled Epoxy Wall Clock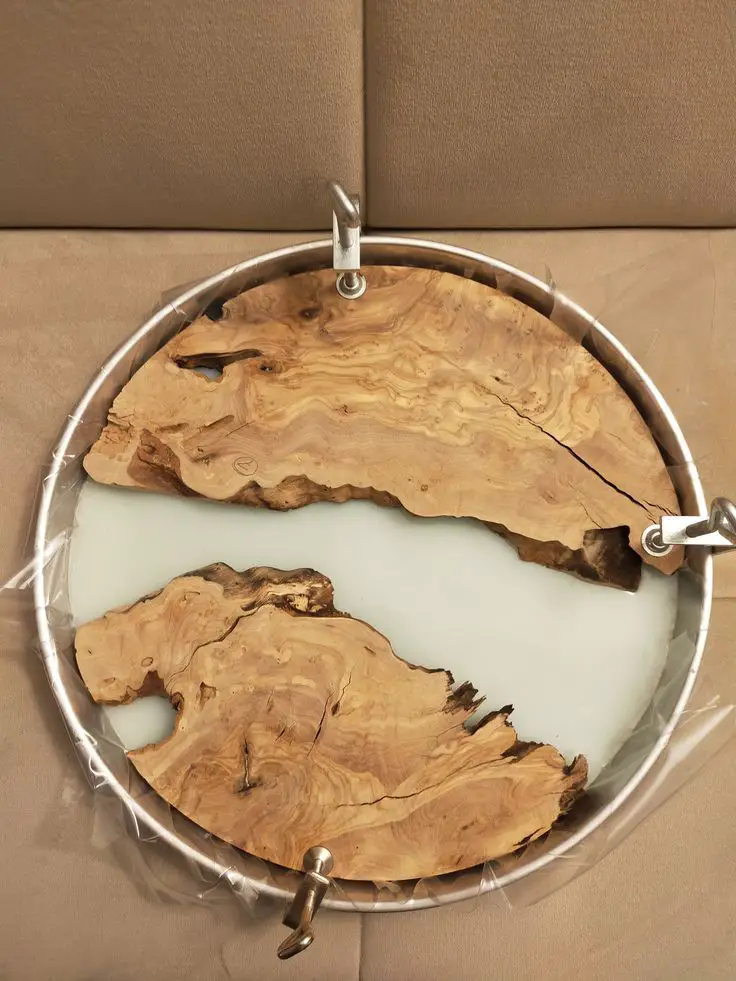 Source: Pinterest
This is handcrafted from special wood and epoxy resin to produce an eye-catching beautiful item that is both practical and ready to hang on the wall.
Charcuterie Board (Serving Tray) With Handles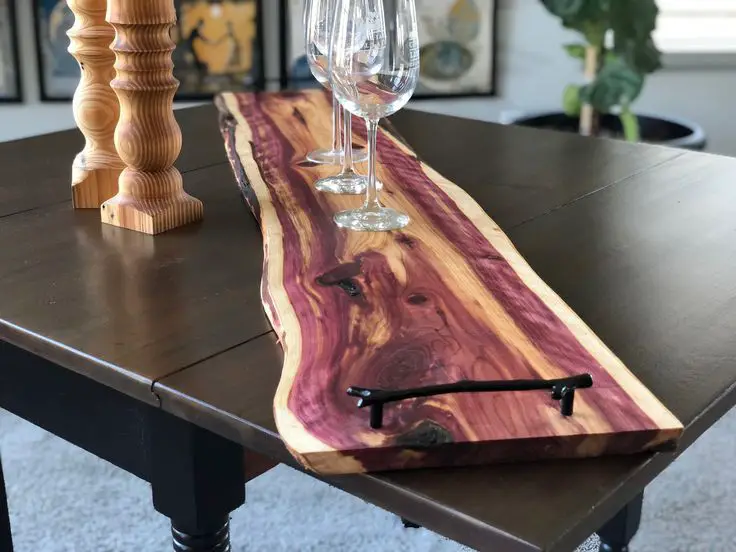 Source: Pinterest
Red Cedar wood is used to create this gorgeous, hand-crafted, charcuterie live-edge board, which offers a strikingly beautiful rustic presentation option for a variety of meats and cheeses.
Epoxy Resin River Table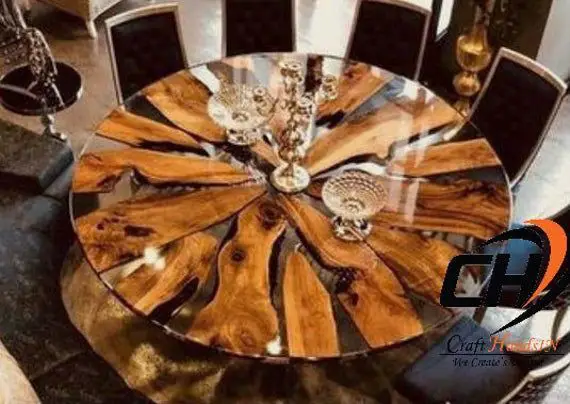 Source: Pinterest
This unique epoxy resin river table is one of a kind in appearance and adds beauty to your home. They are perfect if you want a distinctive live-edge dining table and coffee table.
Epoxy Bedside Lamp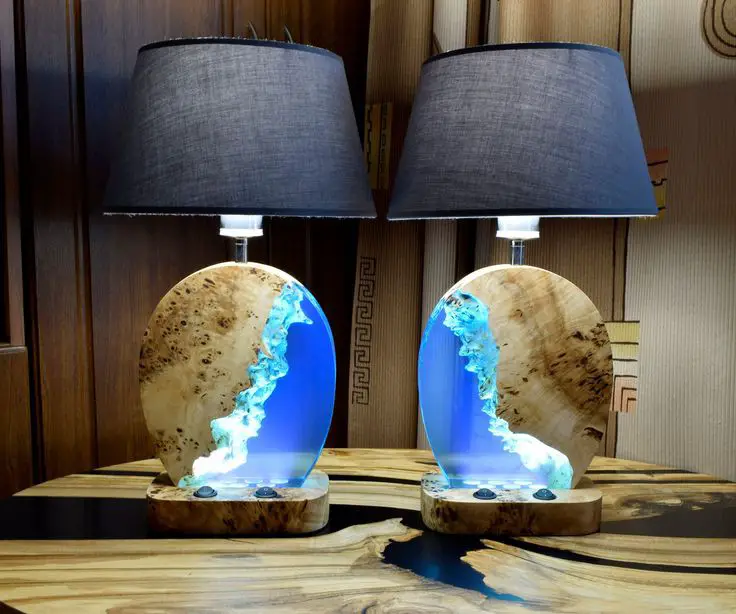 Source: Pinterest
It is a table lamp and night light in one, thus it is not a typical lamp. This wood light is constructed from epoxy resin and is entirely handmade. It received meticulous brushing and polishing treatment after which it was sealed with natural oil wax, giving the lamp its enduring attractiveness and completing its eco-friendliness.
You have the option of turning on either the Lampshade or Epoxy part alone to use as a night light or as a table lamp.
Wood Resin Pendant
Source: Pinterest
This custom-made necklace is crafted from resin and black hornbeam wood that is incredibly smooth to the touch. A mirror-like shine was applied to the resin and the best part, it glows at night.
Magnetic Knife Holder
Source: Pinterest
Constructed from solid oak, walnut, and wenge wood. The sizes of the magnetic strips vary and each one has significance and purpose which is served by you. The screws and wall plugs are included so you can effortlessly hang them on your wall.
Resin Keychain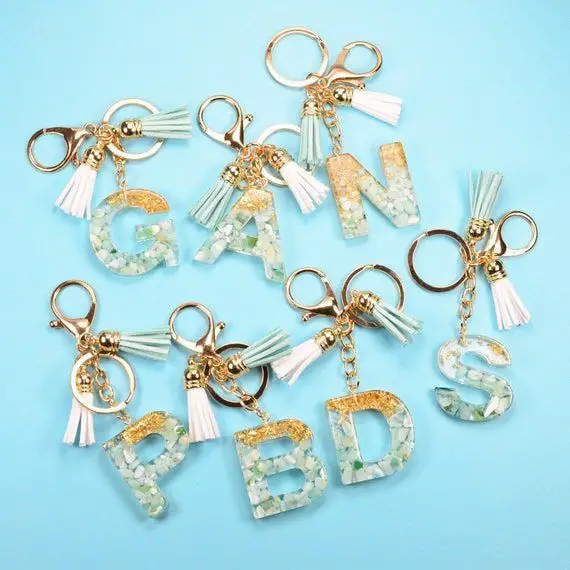 Source: Pinterest
A resin keyring designed for regular usage and to add color to your key ring. When giving is involved, it can become even more personalized as you can choose from a variety of options. For instance, you can pick any letter from the alphabet. The colorful, elegant, and glittery keyring is eye-catching and definitely goes with any decor
Epoxy Glamour Bookmark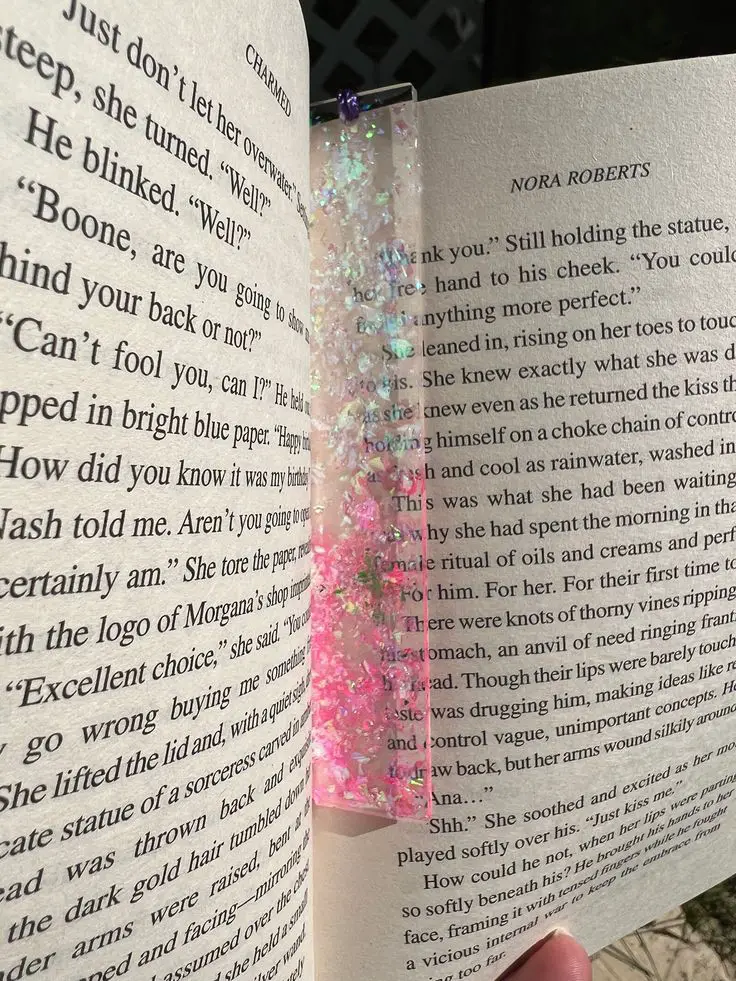 Source: Pinterest
Premium resin was used to ensure that the bookmarks maintain their beauty over time and, most importantly, that they do not become yellow but instead, keep their color. Everybody and anyone who loves books should have a bookmark. It would make a wonderful birthday or holiday present for them.
Keyboard Wrist Rest Resin
Source: Pinterest
Keyboard Wrist Rest is another cutting-edge product line for resin artists in addition to the keycap. A strong understanding of the material characteristics, such as the hardness and curve of the wood, the shrinkage of the resin during cooling, and most significantly, control of clarity, is necessary for artisans to complete this type of project.
Wooden Epoxy Handmade Bookend
Source: Etsy
These bookends are made from epoxy resin and wood. Unique epoxy bookends are a wonderful addition to any bookcase. Additionally, it will make a lovely gift for a new house or as a decor item. The majority of people would adore having such bookends as interior decor in their homes.
Wooden Epoxy Desktop Stand
Source: Pinterest
This handmade desktop stand was crafted from live-edge olive wood and resin. This made it both beautiful and functional. The laptop holder was completed with a food-safe hardtop oil and may be used in children's furniture and toys.
Wooden Cufflinks with Epoxy Resin
Source: Pinterest
These handmade cufflinks are a set of contemporary natural products made of epoxy resin (liquid glass) and wood. It is genuinely one-of-a-kind since each tiny wooden component was meticulously carved and cut. It is perfect to wear on important events like birthdays, weddings, anniversaries, or any other time you want your fashion accessories to stand out.
Walnut Wood Ring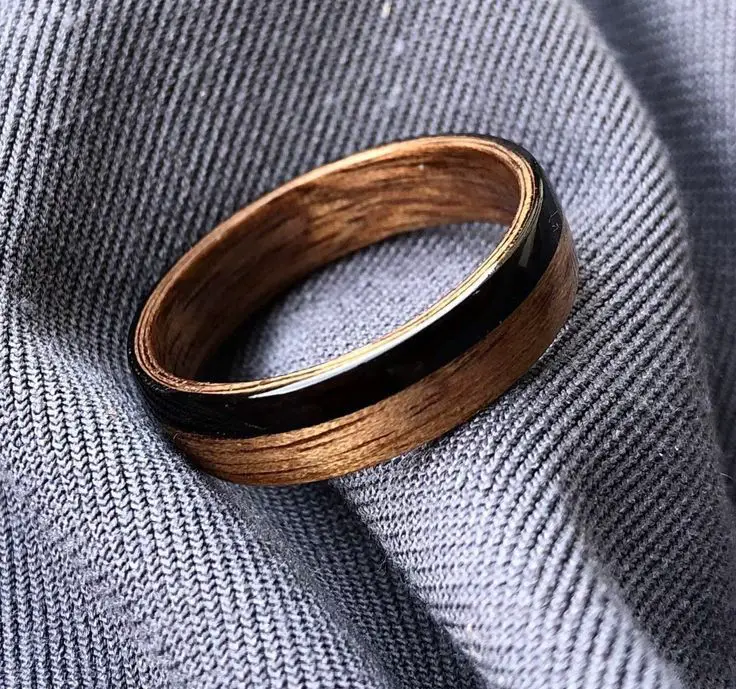 Source: Pinterest
Wooden rings are incredibly lightweight and cozy to wear. The hardwood ring is a stunning piece of minimalist natural jewelry. Its form is quite intriguing.
Acacia Wood Cheese Board with Resin
Source: Pinterest
You may slice all kinds of meals, including pizzas, loaves of bread, cheeses, meats, veggies, and fruits, using this acacia wood cutting board. This board also functions well as a charcuterie board and a stylish serving board. The resin used makes it highly sturdy and solid; it does not need much maintenance. Simply treat the wood with a food-grade oil if it starts to look worn out over time.
Epoxy Resin Wood Placemats
Source: Pinterest
With our stunning epoxy resin cedar wood placemats, you can eat in style while protecting your table. It has resistance against heat, provides a unique and beautiful way to protect your dining area, and is quite simple to clean. These placemats, which are backed by the highest quality standards, will endure a lifetime of use.
Round Agate Wall Mirror
Source: Pinterest
This is a spherical mirror that has been decorated to look like agate using resin painting. A neutral color accent and a pop of purple have been added to the resin. This geode mirror has crystals of various colors adhered to give it an agate appearance. To accentuate the feeling of marble, additional details like hand-drawn lines were included.
Poker Coasters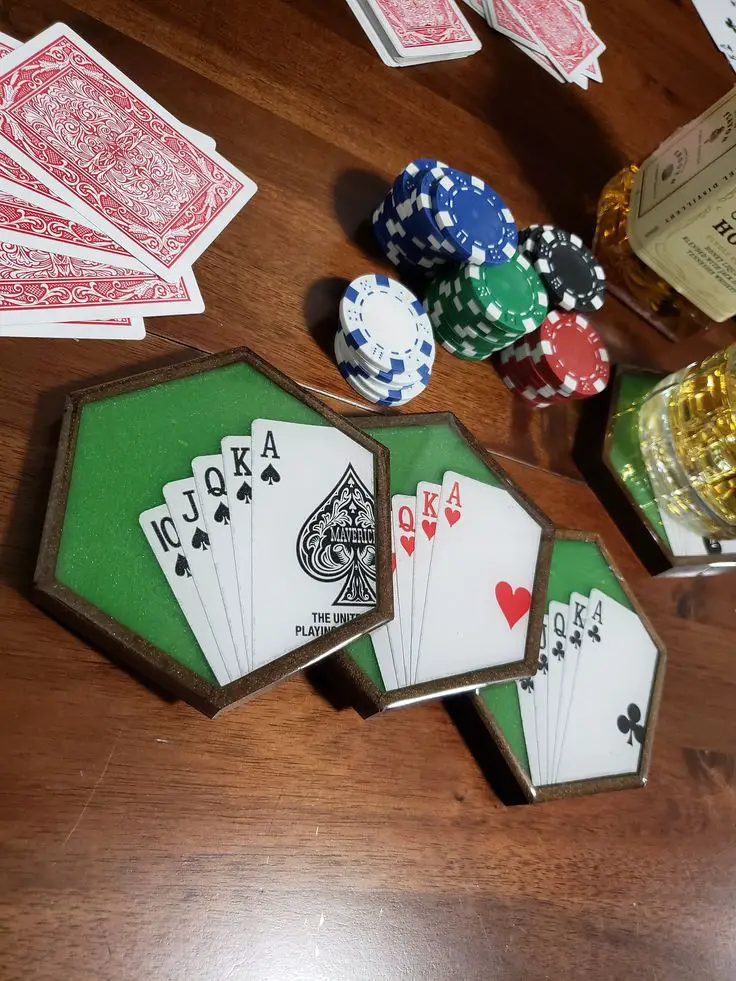 Source: Pinterest
These fantastic poker coasters will spice up your game night. Each coaster has a deck of playing cards made of epoxy resin that is modeled after the traditional green felt poker table. You can acquire one of each suit by buying a set of four-suit coasters. Diamonds, Spades, Hearts, and Clubs. Due to the fact that each coaster is handmade and unique, the card edges, green color, and thickness may differ from piece to piece.
This makes these poker coasters the ideal and thoughtful presents for everyone who likes Las Vegas or casinos.
Left Coast Wood Resin Money Clip
Source: Etsy
It is made from a thick layer of pure black anodized aluminum, vivid resin, and distinctive organic wood. Has a simple design and excellent functionality. You can test this wallet's strength against rigorous use, thanks to its sturdy design and long-lasting materials. It can securely keep twenty cards, IDs plus a small amount of cash and with only one motion, you can easily access every card's contents because of the cunning thumb notch.
This breaks the norm with personalizations that pop in long-lasting UV ink that won't rub off, making it the ideal gift for groomsmen, parents, partners, siblings, and more.
Epoxy And Wood Phone Holder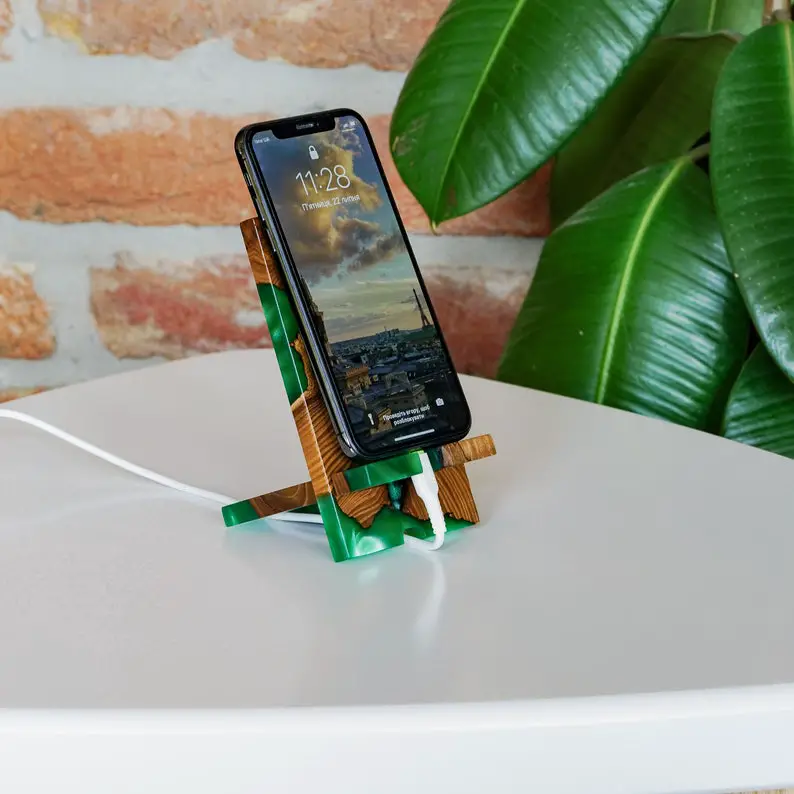 Source: Etsy
This phone stand's distinctive design not only makes it strong but also elegant. Each phone holder is crafted from premium wood with unique textures and an outstanding epoxy resin mixture.