Epoxy resin is a popular adhesive and material used in various woodworking activities. Epoxy is used to bond wood and also finish wood surfaces because it is a substance that is durable and strong. It also helps to give wood surfaces a glossy coating when it is used as a surface finish.
As a DIYer or woodworker who prefers using epoxy resins as a great option for improving the aesthetic appeal of your wooden furniture or tools, it helps to know the best epoxy products available for woodwork. If you're looking to revamp your home or protect your wooden creations with epoxy resins, check out some of the best epoxy products and their features shared here.
Top 10 Best Epoxy Resin For Wood River Tables
Superclear Epoxy Resin
Superclear is one of the clearest epoxy resin products available in the market. It is one of the best epoxy resins for a perfect river table, with a high UV tolerance and 1:1 application ratio. Woodworkers don't have to worry about quick yellowing associated with many other epoxy resins.
Superclear is also entirely compatible with a wide range of color pigments that'll help anyone achieve their desired colors for their river table design. It protects wooden tables and gives them a super glossy and clean finish.
Pros
Bubbles are easy to eliminate.
High UV tolerance.
Very clear and glossy finish.
Cons
Long curing time.
Pricey.
More suitable for smaller projects.
Stonecoat Epoxy Resin
Stonecoat Epoxy Resin products are suitable for wooden River tables and other wooden works requiring epoxy coatings. It is typically combined with a hardener in a specific ratio before use, and the resulting mix combines to create a glossy, water-resistant, and durable finish.
You can deep pour up to 2″ of the product per time, and it has light viscosity, making it perfect for River Table woodwork.
Pros
Produces minimal bubbles.
Suitable for beginners and professionals.
UV tolerant.
Low viscosity.
Clear finish.
Food safe and perfect for creating wooden dining tables.
Cons
Takes a long time to cure.
High-end product.
Best Epoxy Resins For Wood Artwork Finish
ArtResin Epoxy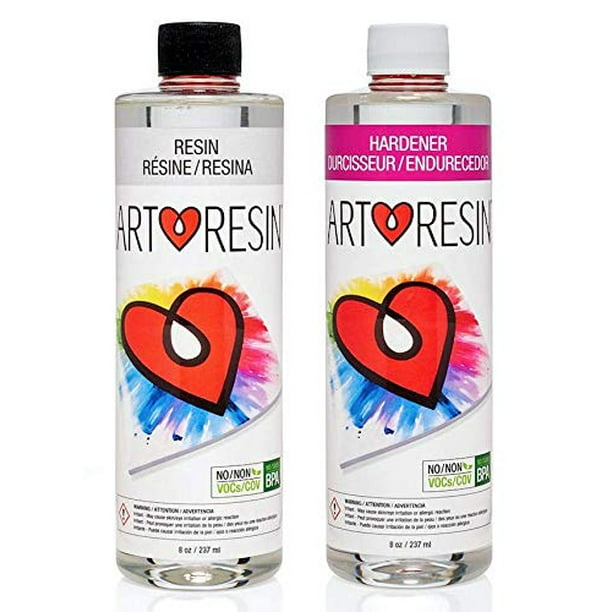 ArtResin is one of the most popular epoxy resins used by artists globally. It gives artworks a very clear glossy coating. It's also non-toxic and health/eco-friendly because it produces zero VOCs.
ArtResin is prepared in a 1:1 gallon mix ratio to achieve optimum consistency. However, the preparation process is straightforward and can be done by both professionals and beginners. It has UV-resistant properties that prevent it from yellowing due to exposure to sunlight. It can be paired with color pigments to achieve customized artwork, woodwork, and pieces of jewelry.
Pros
The absence of VOCs and toxic fumes makes the product safe for use.
A 1:1 ratio makes it easy to use.
Has a strong UV tolerance.
Has good self-leveling properties.
Cures quickly and clearly.
Cons
It comes in only small sizes, making it suitable for small-scale projects.
Artwork can bleed if it's not sealed correctly.
Art N' Glow Epoxy
Art N' Glow Epoxy can be used as a casting or tabletop resin. One of the features that makes it so loved is the fact that it dries very crystal clear.
The product also has a brief work time of about 40 minutes and is UV resistant, preventing it from yellowing over a long period. The resin is self-leveling, self-degassing, and odor-free, allowing a comfortable work environment.
Pros
The product has self-leveling properties.
Produces zero or very minimal bubbles.
Cures fast.
The end product will have a very clear finish.
Cons
Is only suitable to be used for small surface works.
Best Epoxy Resin For Wood Casting
Glass Cast 50
GlastCast 50 is primarily made as an epoxy casting material. It can cast wood and silicone molds to make beautiful furniture and jewelry. They are not suitable for surface finishes because they may get warped in the curing process and must be flattened.
Its tolerance to sunlight prevents it from yellowing quickly, like some items cast or finished with Epoxy resins. It
Pros
UV tolerant and high resistance to yellowing.
Produces bubbles-free casts.
Has an easy-to-use 2:1 ratio.
Results in a very clear and glossy look.
Durable.
It can be easily combined with various pigments available.
Cons
Takes a long time to cure.
Prone to overheating during pouring.
Naked Fusion
Naked Fusion Epoxy is a crystal clear resin artists use to bring to life colorful pigments in their artworks, whether on canvas or tabletop.
The product has zero VOCs, making it easy to work with and providing a comfortable environment for your project. It can be used for various art products such as resin jewelry, river tables, geode paintings, etc.
Pros
Has an easy-to-use ratio of 1:1.
Has a low viscosity suitable for River tables.
The item is adaptable and suitable for surfaces other than wood.
UV resistant.
Cons
Not suitable for large surface projects.
Best Epoxy Resin For Wood Countertops
ProMarine Epoxy Resin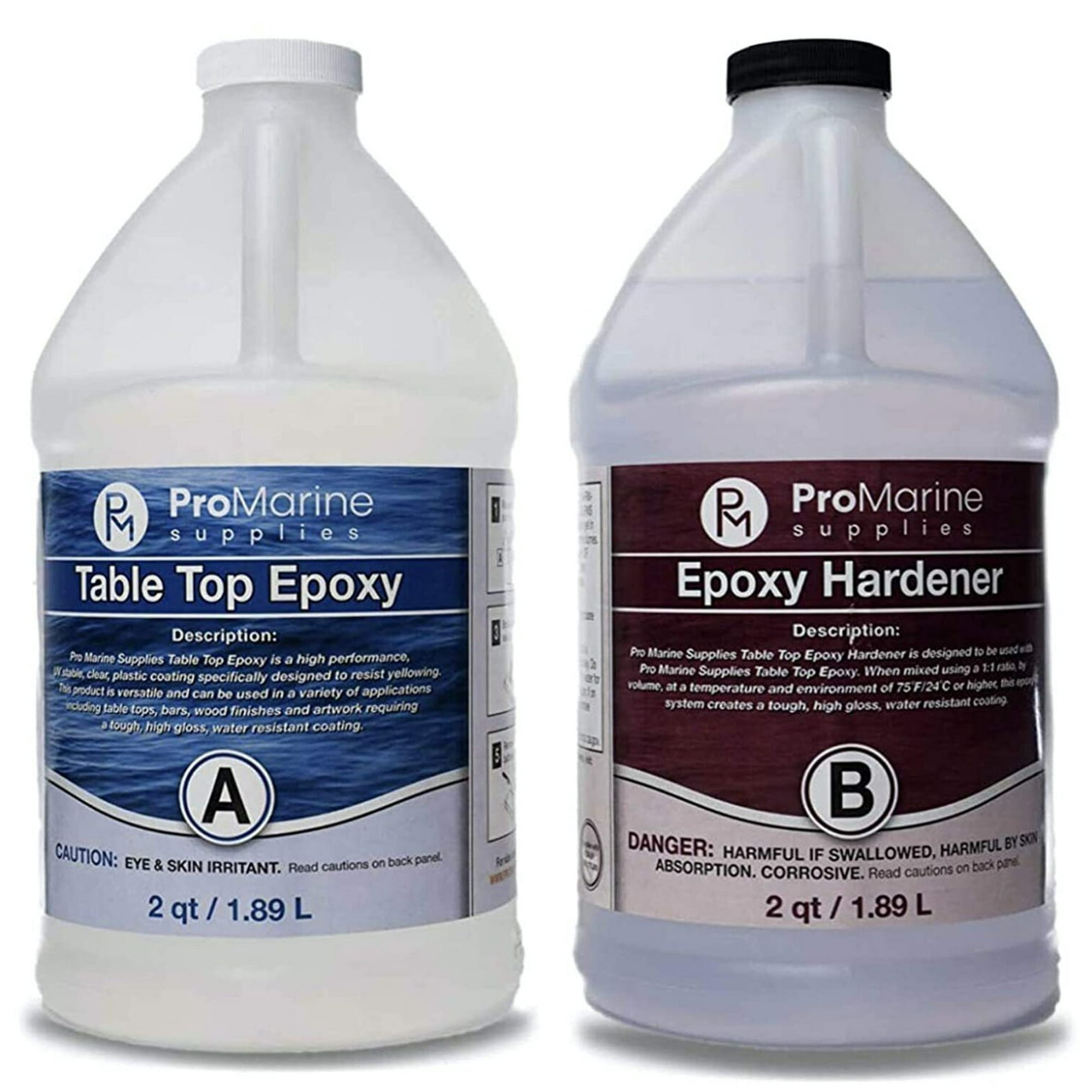 ProMarine Epoxy is a two-part resin product combined with a hardener in a 1:1 ratio before use. Its water-resistant properties make it one of the best epoxy resin products for your kitchen countertop. ProMarine is one of your best bets for any countertop that requires a clear and durable surface coating.
Pros
Gives a durable finish.
Has self-leveling attributes.
It can be used to cover both large and small surface areas.
Versatile.
Eco-friendly product.
Has been declared food safe by the FDA
1:1 easy mix ratio.
Cures quickly.
Smooth glossy, and precise finish.
Water-resistant.
Cons
The product produces bubbles which are terrible for any epoxy coating project.
Has odor.
Selective with color pigments or paints it can pair with.
Doing a slow pour might ruin the countertop.
TotalBoat Table Top Epoxy Resin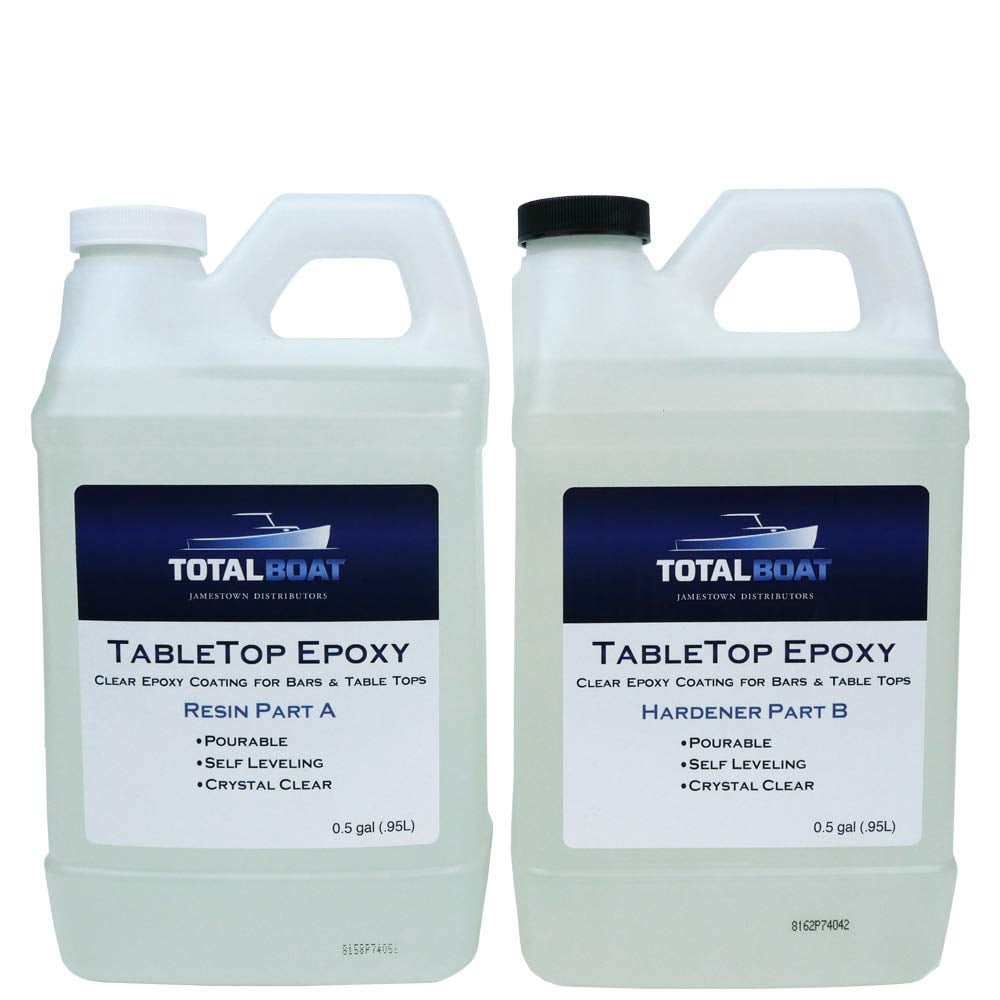 TotalBoat is one of the best epoxy resins for a countertop or tabletop. It's a 2-gallon mix ratio product that gives table tops and counters a smooth, glossy, transparent, and scratch-resistant surface.
TotalBoat is easy to use and suitable for professional woodworkers and people trying to use epoxy for a DIY tabletop project.
Pros
The product has a waterproof coating.
Self-leveling.
Scratch resistant.
High resistance to UV light.
Clear finish without blush.
Suitable for both small and large-scale wooden tabletop projects.
Low odor.
Cons
Prone to bubble formation.
Best Epoxy Filler For Wood Repair
ABATRON WoodEpox
ABATRON WoodEpox is a wood filler used to repair, replace and even extend wood and similar rigid materials. It possesses shrink-free qualities and permanently bonds to most surfaces.
It is so helpful and suitable because, like wood, finishing touches such as painting, sanding, planning, and the like can be applied to it. It's great indoors and outdoors.
Pros
Short curing time.
The substance is adaptable and can be applied as a filler to various materials besides wood.
Waterproof.
Non-toxic filler.
Easy to use and DIY.
Seals damages permanently.
It can be stained in different colors.
Cons
It cannot be used for already weakened wood.
It is more pricey than regular wood fillers.
DAP 541

DAP 541 is a plastic wood filler used to repair/fill in damage to wooden structures in your home. It has an easy-to-use formula and dries to a natural wood finish when applied.
This product even changes color to indicate when it is ready to sand, making it easy for you. Feel free to apply finishing touches to your surface when done.
Pros
DAP wood filler is durable and can cover damages for years without cracking.
The process of mixing and application is straightforward to follow.
Damaged wood finished with DAP wood has a clean and neat finish after sanding.
It is easy to spread and work between surfaces.
It can be painted over or stained, making it easy to completely mask the repaired spot.
Cons
The product's waterproof property is questionable.
What To Consider When Picking The Best Epoxy Resin For Wood
There are so many different epoxy resin products available to use for creating fantastic wood works. However, with everything out there, it's essential to know what to look for when selecting a product. Here are some things to consider when choosing the best epoxy resin for a wood project.
There are lots of people boycotting epoxy resin products because of their toxicity. The chemicals are known to irritate the skin and cause respiratory issues.
It'll do anyone good to use FDA-approved or eco-friendly products to avoid endangering themselves.
One of the challenges with using epoxy resins is their long curing time. It's essential to know how long your epoxy will take to cure before purchasing any product.
Exposure to sunlight makes some epoxy resins begin to yellow, putting a dent in the whole look of the woodwork.
Ensure that you're going for products with high UV tolerance if you want your woodwork to have a lasting look.
Epoxy resin coatings and pours tend to have bubbles that reduce the overall appeal of the woodwork and end up leading to structural malfunctions.
Although you can get rid of them with a heat gun, it's probably better to choose products that produce minimal bubbles.
Some other essential things that should be considered include how clear the final resin finish is, its durability, scratch resistance, and mix ratio.
Frequently Asked Questions
Does Epoxy Resin Bond To Wood?
Epoxy resin will bond quickly with literally every type of wood. Although how well it bonds with the wood will depend on the type of wood used. Some wood properties, like its porosity and surface strength, determine how well epoxy and wood bond, and this can be enhanced by using sandpaper on the top and edges to improve adhesion.
What Is The Best Epoxy For River Table?
There are lots of fantastic epoxy resin products that can be used for River tables. They must fit for a deep pour, have a low viscosity, should be able to resist UV lights, have no VOCs, and produce minimal bubbles.
Some of the best products include FGCI Superclear deep pour resin, Stonecoat epoxy resin, and lots more.
How many epoxies Do You Need For Wood?
Knowing the amount of epoxy resin required for coatings and filling, river tables, or other woodwork will depend on factors like the overall table dimensions, the volume of void for an epoxy pour, and other factors.
The process of determining the quantity of resin needed has been simplified with the emergence of epoxy resin calculators that help one know how much epoxy is required to complete a given woodwork.
How Long Will It Take For Epoxy To Set On Wood?
When the epoxy is used for a wood project, it takes around 72 hours typically for the resin to be set enough to a level where it can be touched. However, it will take a week or more for the resin to be entirely on wood.
Does Epoxy Make My Wood Waterproof?
Epoxy has properties that allow it to give surfaces a glossy and waterproof coating which helps to protect the wood from external elements for a prolonged period.
Conclusion
Determining the best epoxy resin product for any woodworking project can be tricky with so many products available in the market. However, when woodworkers consider the product's features, such as its ability to withstand pressure and last longer, as well as other pros and cons, it becomes a much more manageable selection process.
Woodworkers must also consider the nature of the wood that will be worked with, given that some epoxy resins may not be as compatible with the wood as another product. Also, consulting the manufacturer's guide for usage will help ensure the products are applied and prepared correctly.