Epoxy resin has several industrial uses for a wide range of reasons. It has superior mechanical qualities and greater heat and chemical resistance than other resin forms.
Epoxy Craft resins are durable and water resistant, making them an excellent option for many tasks. It is used to seal floors or worktops, hardeners for jewelry, countertop surfaces, food safes, and create resin art, amongst other things.
Different types of epoxy resin and applications determine the kind of epoxy to use. Different products on the market are better suited for specific applications than others.
How will you know which one is best for you? This article will look at the best epoxy craft resin choice for you.
Top 4 Epoxy Craft Resin Based on Their Uses
Best Epoxy Resin for Surface Coatings: STONE COAT Epoxy Resin Kit
This sleek resin finish protects your counters and gives them a beautiful, almost crystal-clear surface. It's also completely customizable, so you can use color additions like acrylic paint or alcohol-based colors to make your countertops stand out.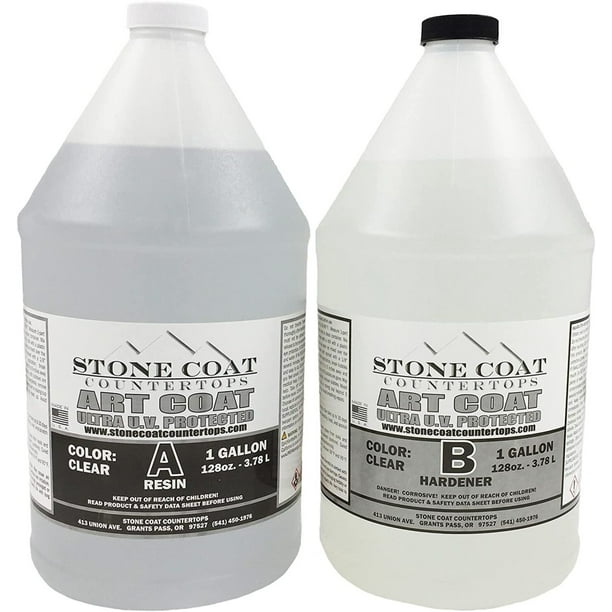 Pros
Simple to use
UV-resistant
Moisture, impact, Heat, and abrasion resistance
Finishes with a shine
VOCs are absent
safe for food
available in different gallon sizes
compatible with coloring agents
Cons
There are no mixing cups supplied.
Only available with a crystal finish.
Excessive air bubbles are produced.
The use of coloring chemicals might cause the resin to seem muddy
Expensive
You can check the current price on Walmart
Best Epoxy Resin for Paintings: PROMARINE Supplies Art Resin
PRO MARINE Supplies Art Resin is Ideal for professional artists and people who love to carry out things alone. It is a clear epoxy created from non-toxic, high-quality components, contains self-leveling properties, and has a high gloss and deep luster.
Pros
Versatile
Simple to use
Suitable for coating and surface pouring
Colorant compatible
Affordable
No VOCs present
UV resistant
High-quality sheen finish
Cons
Excessive air bubbles are produced
Awful odor
Limited quantities available
You can check the current price on Amazon
Best Epoxy Resin for Floor Coating: MASTER PROTECTIVE COATINGS Epoxy
Master Protective Coating is ideal for industrial, commercial, and residential applications. It is an industrial-grade epoxy resin that is resistant to acid and yellowing. The formula is 100% solid and self-leveling, making it simple to use.
Pros
Simple to use
Graded for commercial and industrial use
No VOC
Resistant to heat, UV, acid, moisture, and insect.
It can be used both indoors and outside.
Excellent for various flooring types.
Contains self-leveling formula
Uses solid-based formulations
Covers large surfaces
Cons
Limited quantity
There is more epoxy than hardener
There is no mixing container supplied
Designed mainly for usage on concrete
You can check the current price on Amazon
Best Epoxy Resin for Tables-POURABLE PLASTIC Deep Pour Resin
Deep-pour resin is one of the finest epoxy resins for crafts that need deep pouring. It is among the most trusted names in the epoxy resin business.
Deep-pour epoxy is ideal for river tables and other crafts since it has a low odor and is safe to use when liquid and cured. It combines well with color powders and cures clearly.
Pros
Color compatible
Affordable
There are no VOCs present
It can be used for different purposes
Simple to use
UV and impact protection
High-quality sheen finish
Suitable for coating and surface pouring
Cons
Excessive air bubbles are produced
Gives off a strong odor
Limited quantities available
You can check the current price on Amazon
Tips on How to Use Epoxy Craft Resin
Even though it's great to know what products work best for epoxy resin projects, it is also important to understand how to use them well. Here are some of the tips for using epoxy craft resin.
Cover Up Your Work Area
Even though the epoxy resin is not corrosive, it can be challenging to remove from surfaces where it has been spilled.
As a result, anytime you operate with epoxy resin, whether conventional or otherwise, you should cover your work table and the floor in your work area.
Follow the Instructions When Mixing Your Epoxy
Remember that resin is made to work in a certain way based on the chemical makeup the manufacturer specifies. If you change things like the mixing ratios or the ideal conditions, your resin might not cure correctly.
Make Sure the Surface You Are Working on is Clean
Before you start, ensure the surface you'll be working on is clean, whether you're making a resin casting in a mold or coating a surface to protect it. Why? Well, dust and even loose surface pieces can cause your resin to cure wrong or get stuck in your resin curing.
Follow Safety Procedures
It would be best if you do everything possible to protect yourself from these chemicals by wearing a mask, gloves, and eye protection. Raw resin and hardener can cause a lot of pain if they get on your skin, eyes, or airways.
You should also ensure that your workspace is ready to work with resin and cover up sensitive areas.
Conclusion
Epoxy craft resins are durable, water resistant, and can be applied for industrial and domestic purposes. There are different types of epoxy resins based on their use and application.
When using your epoxy craft resin, ensure to follow the tips above to apply it correctly. Based on your application, there are several top epoxy craft resins for you to choose from.