There are food-grade epoxy resins that are safe for making epoxy cutting boards. Especially for health reasons, you need to make sure your epoxy cutting board is made using these kinds of epoxy resins. 
But other than this, there are other tips to help you get the ideal epoxy cutting board. A couple of them will be discussed here as well as some product recommendations. So, follow through to the end.
What Is an Epoxy Cutting Board?
Just as the name suggests, this is a cutting board product that is made primarily of epoxy resin. This primary component is a special kind of hard plastic that can either be in the form of semi-solid or solid form. Some epoxy cutting boards are made only of this primary component while some are a combination of solid wood and epoxy resin.
For an epoxy cutting board, it is definitely in a solid state but this is after it is heated to arrive at this state. The strength of epoxy resins as sole or major property is one of the reasons it is being used to make kitchen items such as cutting boards.
However, you still need to be deliberate about choosing the right product as not everyone out there is good enough. When searching for an epoxy cutting board, the thickness should be one of the major considerations.
Scratches would easily be left after use except due attention is given to producing epoxy cutting boards that are very thick and strong. There are two problems that this could cause. The first is that consistent scratches would eat deep into the board and cause it to weaken.
The other is that these scratches would make the cutting board vulnerable to bacteria and germs. This is because these unwanted microbes would become hiding spots for these harmful microbes. It would take so much intensive washing and the use of special cleaning items to get them off.
But even more important than strength is getting something made out of food-grade epoxy resin. This should be taken very seriously, especially for health reasons. The reason is so that the meals that would be prepared using this cutting board will not be exposed to toxic properties.
Where Should You Get Your Epoxy Cutting Board?
For starters, there is nothing wrong with buying and using an epoxy cutting board. This is as long as you pay serious attention to getting the right one. Some of what you stand to enjoy (as long as you use the right one) are durability and the possession of a good-looking item.
Seeing how important it is to get the right epoxy cutting board, knowing where the ideal product can be gotten is important. On that note, you can either get them online or offline.
You are better off getting it at a store that is solely into the sales of kitchen utensils and supplies if you are getting yours offline. One major reason is so that you are certain they know how to properly store these items.
You can make do with reputable ecommerce platforms if you are getting yours online. Whether your choice is getting it online or offline, it is only wise that you have an idea of the best epoxy cutting boards in the market. For more on this subject, you should continue reading.
Best Epoxy Cutting Board in 2022
There are many products available on the market. Evaluating every one of them is near impossible because of the sheer number of options in the market. However, this is our take on the best epoxy cutting boards based on the ones we have evaluated.
Furthermore, you should know that this is our take and not necessarily the general stance. To this end, our best epoxy cutting boards in 2022 are:
BARDAK Natural Wood and Epoxy Cutting Board
There are loads of reasons this product has made it into our list. One of the profound reasons is that it is a blend of wood and epoxy. As a result, both properties make up for the shortcomings of each other and ensure a good product.
Those that are particular about looks also have a good-looking cutting board in Bardak natural wood and epoxy cutting boards.
Pros
A perfect blend of natural wood and epoxy resin
Food-grade epoxy resin is used to make it
Could serve multifunctional purposes such as being used as a serving tray
Highly durable
Handcrafted rather than mass production
Cons
It has no handle – Although it has an ergonomic design, this does not work well for everyone
It cannot be washed using a dishwasher – You have to do the hard work of washing it yourself
You cannot get customized products
You can check the current price on Amazon 
INJARDIN Kitchen Wood and Epoxy Cutting Board
This is the sort of epoxy cutting board that puts a smile on people's faces when offered to them as a gift. The reason is that it looks amazing and comes well packaged. You would have to do very little or nothing to make it appear nice.
Pros
Well-packaged product – Comes in a black wrap that looks and seems presentable
Clear instructions on how to properly maintain this cutting board
A blend of sustainable hardwood and epoxy resin
Impressively finished product
Money-back guarantee is offered
Cons
Stereotyped design with the resin lying in the middle and with the same design – The only variation seems to be the fact that it is available in several colors
Periodic Treating is required to keep the mango hardwood intact
You can check the current price on Amazon 
FUNSHOWCASE Epoxy Resin Silicone Molds for Cutting Boards
With this product, you can defy the odds by making your epoxy cutting boards. It comes with instructions on how to go about this and the materials required. This also allows you to come up with something that suits your preference.
Pros
Provision for hanging hole
Transparent yet durable product
A great look that features artworks and impressive designs
Can be cleaned using dishwashers
It is possible to use it in the oven
Easy to clean – Even when stained with oily substances
Cons
Needs to be properly treated before use
An uneven mold base that makes some of the end products look uneven in terms of thickness
You can check the current price on Amazon 
A&E Millwork Epoxy End Grain Cutting Board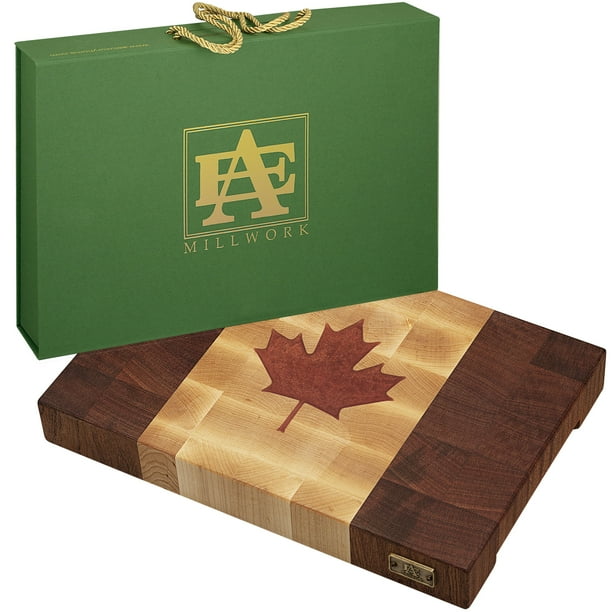 This is another epoxy cutting board that offers value for money spent. This is as long as you use it as you should. So, ensure that you read the instructions and adhere to them if you choose to get this one.
Pros
Also made using top-quality solid wood
Very durable product if handled as it should
Have sturdy feet to ensure a firm grip
Product Warranty
Cons
Periodic oiling is required to keep it intact
Cannot be washed using a dishwasher
You can check the current price on Walmart
Frequently Asked Questions about Epoxy Cutting Boards
Is Epoxy Good for Cutting Boards?
Epoxy resins are good for making cutting boards as long as the right kind is used. For starters, it should be food-grade epoxy resin as not every epoxy resin fits this profile. Furthermore, it should be thick and strong enough so that scratches that are capable of housing bacteria and germs will not be formed easily.
How Should Epoxy Cutting Board Be Treated?
Epoxy cutting boards are supposed to be dried immediately after they are washed. You are supposed to wipe using a wet cloth. Other than this, these products are to be treated with the right oil. Some ideal oil to use includes mineral beeswax, coconut, tung oil, or linseed. On the contrary, olive or vegetable oil should not be used.
What Kind of Wood Is Best for a Cutting Board?
There are so many hardwood options to consider for cutting boards. This is even if the wood will be blended with epoxy resin. Maple happens to be one such wood option. This is considering how it can resist bacteria since it is close-grained, and it is durable.
Can Silicone Molds Be Reused?
Silicone molds can be reused; allowing you to produce more epoxy cutting boards. However, you need to take proper care of this mold to ensure that it serves you for a very long time.
How Thick Should Cutting Boards Be?
Usually, wood cutting boards are thicker than all sorts of plastic cutting boards. The ideal thickness should be between 0.25 to 2 inches. Epoxy cutting boards are usually less thick but those with a blend of solid wood would have to be thicker than this.
Conclusion
Using Epoxy cutting boards is not a bad idea. But this is as long as you get and use the right one. We have shed light on that here by discussing where to get the ideal ones and recommending some products. Whichever one you get, just make sure it is ideal.