Keeping your garage floor in good condition can be challenging. That's why you need to use the best epoxy resin for the garage floor, and that can be different among individuals. Your garage may serve as more than a place to park vehicles. Its other purposes also determine what you consider the best epoxy resin for your garage floor.
The brands we consider to be the best epoxy resin for garage floor include Dura-Kote 100% Solid Epoxy Build, GlobMarble Concrete Epoxy Floor Coating, and East Coast Industrial Grade Epoxy Resin. These epoxy resin for garage floor, in combination with the right top coat, have high resistance to abrasion, good gloss finish, and they are stain-proof, making them easy to clean.
In this article, you'll know the best epoxy resin for garage floor you should choose. You'll also know how to choose the right epoxy garage floor coating by understanding the things to look out for.
Best Epoxy Resin for Garage Floor.
Here are some of the best epoxy resin for garage floor you should consider for covering your garage floor.
GlobMarble Concrete Epoxy Floor Coating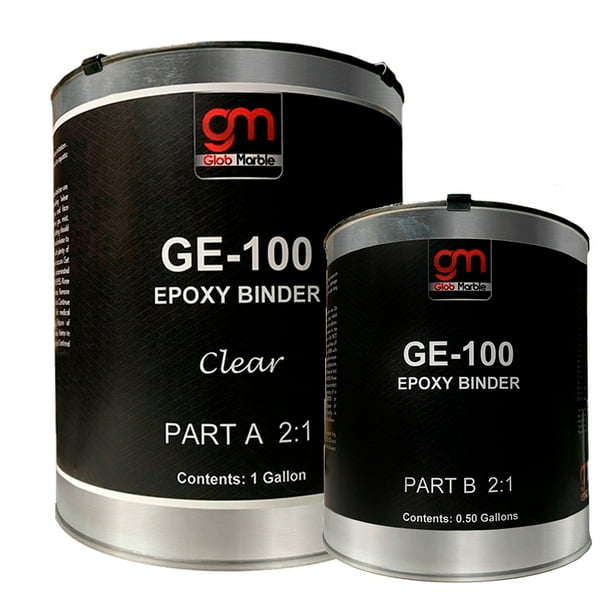 This is a two component epoxy floor coating that is 100% solid. It has one part epoxy resin and one part hardener that's half the volume of the resin. A combined 1.5 gallons of this epoxy floor coating covers about 100 square feet of your floor, and about 18 mils thickness.
Pros
It is 100% solid
It is usable for different patterns and designs.
It gives you good floor thickness.
It has a good pot life
Cons
You may need more gallons to cover your garage floor.
DK500 100% Solids Floor Coating Kit
You can check the current price on amazon.
For different epoxy floor coating applications, the DK 500 100% Solids floor coating kit will work well for your garage floor, stadium floors, showrooms, and industrial floors. It is a two part resin and hardener epoxy kit that discourages yellowing and blush since it is also cycloaliphatic.
You can expect it to cover about 150 square feet of the floor as a coat. However, for achieving a thick build, you can cover about 70 square feet per gallon for 23 to 40 mils of thickness.
Pros
It is 100% solid
It has a wide range of application
It gives you excellent floor thickness
It offers more epoxy resin volume
Cons
It may yellow if exposed to sunlight.
East Coast Industrial Grade Epoxy Resin
You can check the current price on amazon.
If you're looking for a low-cost epoxy resin for garage floor that has flexible applications, here's the right one for you. This industrial grade epoxy resin comes in two parts and it has minimal odor, making it easy to work with.
As a heavy-duty clear floor coating and adhesive, you can use it for your garage floor, and apply an equally strong, preferably industrial grade, top coat to finish the glossy garage floor surface.
Pros
It is suitable for heavy traffic and duty areas like your garage.
It has a reasonably low pot time.
It is moisture and UV resistant.
It is relatively cheaper than other options.
Cons
You'll need to purchase more quantities to achieve more thickness.
Epoxy Coating for Garage Floor
Your garage is the only part of your house where heavy and mobile machines move. This necessitates quality flooring options. However, concrete floors, as most garages have, don't give you the aesthetics you desire in your garage. To effectively combine attractive appearance and functionality, you need a type of floor coating over your garage's concrete floor.
Epoxy floor coating is one of the most attractive garage flooring options you can have. It is suitable for residential and commercial garages, and gives them different ranges of floor finishes, depending on your choice. 
Epoxy garage floor coating uses epoxy resins for garage, usually available in two parts, as a mid floor coat. The concrete is treated with a water-based primer before the epoxy resin and hardener is mixed and applied over the primer. To seal the glossy finish, and further harden the floor, a top coat, usually made of polyurethane resin, goes over the epoxy coating.
The process can take up to one week to complete, depending on the size of your garage, but it's always worth it, provided you choose the right epoxy resin for your garage floor.
Why Do You Need Epoxy Resin for Garage Floor?
While there are other garage floor coating options, such as painting, using epoxy resin for the garage floor may be the best garage floor coating decision you'll make for a long time. There are many reasons associated with using epoxy garage floor coating, and they include:
Improved garage aesthetics
Your garage can serve more than its functional vehicle housing. You can make it into a man cave, a workshop, a home office, or a workout area. Concrete floors don't fit the profile of all these other functions your garage can serve. Therefore, you need an upgrade on that floor.
Applying epoxy resin on your garage floor helps to dramatically improve its appearance, giving it a clear and glossy finish. Your residential garage becomes similar to a car dealership's show area. For commercial garages, you can display your cars better, and attract your target customers.
Garage floor durability
Concrete floors are generally durable when constructed right. However, you can prolong your garage floor's durability and preserve the concrete floor's integrity. With the hard surface that epoxy resin garage floor give, your concrete floor is protected from the effect of grease, oil, and petrol on it.
Usually, an epoxy floor has three layers – the primer, the epoxy mixture layer, and the top coat. The epoxy layer already provides a protective layer to your concrete floor; however, the top coat adds more protection. Also, quality epoxy floors can last for more than 20 years.
Easy floor cleaning
Garage floors are known to have grease, oil, and many automobile-related stains, and they can be a menace, especially as they are difficult to clean. Some garage floor covering options are easily weakened by strong cleaning agents that remove oil and grease stains.
To keep your garage floor clean, the best garage floor covering option is an epoxy resin garage floor. Installing it will make it easier for you to clean your garage floor, and keep your garage in immaculate condition.
Better tire durability
Your vehicles' tires are susceptible to wear and tear. You can prolong your tires' life by having an epoxy floor in your garage. One of the common tire-damage associations is spinning tires on your concrete garage floor. With the smooth epoxy floor surface, there's less wear and tear with spinning.
Things to Know Before Buying Epoxy Resin for Garage Floor.
There are different brands of epoxy resin, some of which can be used for different surfaces, including table tops and garage floors. However, there are those that are specifically made for garage floors. Before you make a choice on purchasing an epoxy resin for your garage floor, here are some things you should know.
100% Solids epoxy coating is the best
The best epoxy resin for garage floor is one that has 100% aliphatic solid. They offer you the best performance and you can achieve your coating thickness in only one application. With these types of epoxy resin for flooring garages, you have the complete epoxy material in the package on your floor.
However, high solids epoxy resins, those that have as low as 50% solid, and water-based epoxies are no good, except as primers. They'll leave the percentage of solids they have as your epoxy coating, and the water or other solvents will evaporate. You'll have to apply them multiple times to achieve a desirable floor cover thickness.
You always have to prepare the floor.
It's important to prepare your concrete floor before you use any type of epoxy resin and hardener combination on your garage floor. While acid etching may be sufficient for new concrete floors, you may have to combine it with grinding on old concrete floors.
Also, you'll have to wash the floor to neutralize it, and return it to a good pH that facilitates binding with the epoxy materials. Therefore, avoid epoxy coating materials that claim to work as primers, epoxy layers, and top coat at the same time.
The best ones come in two parts.
The best epoxy resin you'll find for your garage floor will come with a hardener in another container, hence, the two-part epoxy resin for garage floor. While there are brands that claim to make your work easier by giving you only one can to apply over your concrete garage floor, they are usually ineffective and not durable.
The epoxy resin will give you that smooth finish and consistency over your primer, while the hardener helps to harden the resin. Mix them, and apply them over your primer-covered concrete floor.
Avoid epoxy resin that has unlimited pot life.
Unlimited pot life is what some brands use to sell their epoxy resin products, and impatient customers fall for them. This quality tells you that the resin doesn't cake when they're in the bucket, giving you more than enough time to apply them on your concrete floor.
The best epoxy resin usually has less than one hour pot life, and requires no induction time after mixing the resin and hardener. Avoid brands that need an induction time for their products after mixing, or those that have more than one hour pot life, they'll take forever to cure.
Frequently Asked Questions about Epoxy Resin for Garage Floor
Here are answers to some of the questions you have about epoxy resin for garage floors.
What kind of epoxy is used for garage floors?
The right type of epoxy for garage floors is a two-part, aliphatic, under-one hour-pot-time, industrial grade epoxy coating. It should be able to withstand tire heat, and carry your vehicles' weight without sacrificing its aesthetics.
Can I epoxy my garage floor myself?
Yes, you can epoxy your garage floor by yourself. However, you'll need to have the right gear and equipment, such as a grinding machine, long sleeved shirt and trousers, and a respirator. Also, you'll likely save on cost if you epoxy your garage floor by yourself.
Final Thought
Your garage can be more than the functional car park that it is. You can improve its looks by using the best epoxy resin for floor garage. However, ensure that you choose the ones that are industrial grade, are two-part epoxy resins, and can give you good floor thickness while covering over 50 square feet. Dura-Kote 100% Solid Epoxy Build, GlobMarble Concrete Epoxy Floor Coating, and East Coast Industrial Grade Epoxy Resin, are the best options.