Perhaps due to its multiple applications, Epoxy resin is one of the most used resins. It comes in handy for making floors, arts & crafts, countertops, durable castings, and a lot more. But epoxy resin (regardless of the type) has to be in the right state to be of good use and epoxy mixers help ensure this.
In other words, the ability of the epoxy mixer to do a great job affects the end product. This is why making use of the right epoxy mixer is of utmost importance. To make sure of this, we will touch on certain things to know about this tool. We will also recommend some great epoxy mixers you should buy.
What Is an Epoxy Mixer?
This is a tool or equipment used to mix epoxy resins. It is supposed to get the resin in the right soluble state before it is used for whatever reason it is needed. It is also important for blending in other solutions added to the epoxy resins. An example is a hardener.
Even in its purest form, epoxy has properties that make it thick. However, the thickness varies. Manually mixing it to get it to the desired state can be very backbreaking and even near impossible in some cases.
This is especially as it concerns getting rid of its bubbles. This is why this special but essential tool is needed to get the job done.
Equally important is the need to get the right one. Getting something that does not help mix the solution to the desired state would only amount to a waste of money and would even cost you in other ways. For example, while some epoxy mixers mix well, they do it aggressively to the point that you could have your epoxy resin spilling away.
Consideration When Getting Your Epoxy Mixer
For starters, getting an epoxy mixer that ticks all the right boxes is very possible. However, you need to be aware of certain things before you make a choice. Some of the considerations include:
Epoxy Resin's Application
This should be one of the deciding factors when choosing an epoxy mixer. If you are using epoxy resin for something such as coating your artwork, then you do not need something with industrial qualities. That would be taking things too far.
On the other hand, you would need something with heavy-duty capabilities when you need to mix epoxy mortar. The point being stressed here is that the epoxy resin's application determines the kind of epoxy mixer required.
Pace
It should not just be about how well the mixer can do the job. How fast it can get the job done also matters. This is especially if it is needed for commercial use.
Durability
Of what use is an epoxy mixer that even does well but just for a little while? Sadly, that is what you get when you purchase some epoxy mixers. So, you should not just be concerned about its impressive features. Also, pay attention to its ability to serve you for a long while.
Best Epoxy Mixer for 2023
The market is flooded with too many epoxy mixers by numerous brands all around the world. So, we understand the hard task of choosing from the countless number of options available. But based on some of the options we have evaluated, here is our take on the best epoxy mixers in 2022 (in no particular order):
QXCSF Epoxy Resin Mixer
Check out the price of this mixer on amazon.
One of the greatest highlights of using epoxy mixers such as this is that they offer stress-free mixing. This is seeing how you only need to fit the cup containing the epoxy into the spot allotted for this. You turn the equipment on and it spins on its own. It is one of the best and most common electric epoxy mixers you would find around.It
Pros👍👍
Comes with 5 Measuring Cups and Other Helpful Accessories
Made with Premium Quality Materials – And this guarantees its durability
Reliable Motor
Works without Manual Aid While in Operation – This is what makes it very stress-free
Operates Using a Balanced Speed
Easy to Maintain
Cons👎👎
It is corded and so electricity is required if it must work
It is slanted and this might cause some epoxy resins to spill while it is being operated
It Only Works with a Constant Mixing Speed
Helix Epoxy and Paint Mixer by Edward Tools
You can check the pricing of this mixer here
This is not the regular kind of epoxy mixer. It is way better seeing that it operates using a patented mixing technique. The manufacturer paid so much attention to the structural design of the blade (the actual mixing end). As a result, users achieve so much success by properly mixing epoxy and even paint as well. You should also know that it does this quickly.
Pros👍👍
Less Air Bubbles Are Generated – This ensures a fine finish and is one of the significant features that come with using the Helix mixer by Edward Tools.
Amazing Mixing Capacity – You can mix as much as 1 – 5 gallons of epoxy resin or paint depending on the blade that you use. You cannot do this at a go with several other alternatives.
Narrow Blade – Some of the blades that come with the purchase of this epoxy mixer are narrow but effective. The 5/16-inch blade is top of the list and can even be fitted into a paint bucket's small hole without removing the lid.
Quick but Effective Technique – You can get your epoxy resin or paint mixed on time and effectively with this equipment.
Easy Maintenance – Other than functionality, this equipment does great in terms of maintenance. This is because it is easy to clean (including the blades).
Lifetime Warranty – The manufacturers are too certain about their product to the point that they offer customers a lifetime warranty.
Cons👎👎
It cannot stir solutions at high temperatures. The silicone properties of the blame will not allow this.
Users are still required to manually operate the electrical end of the equipment to keep it working.
Funshowcase Epoxy Electric Mixer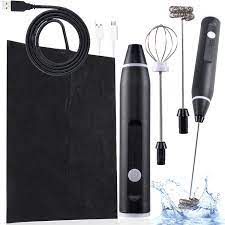 Check out the pricing of this mixer here.
This is one of the best equipment for mixing epoxy resin for small-scale use. Other than epoxy, it also comes in handy for mixing pigments, acrylics, paints, glitters, and several other solutions.
Pros👍 👍 
Different Speed Mode – You can operate it using any of its 3-speed modes
Can Be Used to Mix Other Solutions – pigments, acrylics, paints, glitters, and several other solutions
Comes with a Heating Mat that Deals with Bubbles – It is also very easy to use
It Is Rechargeable
Easy to Clean
Comes with 2 Whisks
Fast Charging
Low Power Usage
Cons👎👎
The Measuring Cup(s) has to be Bought Separately
Is Not Designed to Mix Solutions Exceeding 500 Milliliters
Alcohol and Nail Polish are Needed for Proper Cleaning
Frequently Asked Questions about Epoxy Mixers
What Is Best to Mix Epoxy in?
You should mix your epoxy resin products in containers with straight sides. This is so that you can reach every part (and that includes those epoxy resins that have stuck to the side of the container). You should also use something big enough so that the epoxy resin does not spill away.
Can You Mix Epoxy with a Drill?
It is possible to use a drill to mix epoxy. This is especially the case when you use certain kinds of epoxy mixers as the rod connecting to the blade can be attached to the drill. So, you should make sure you get something that would make this possible when getting your epoxy mixer.
How Do You Mix Epoxy without Bubbles?
You can mix epoxy without having bubbles when you mix properly. You should stir well to arrive at epoxy resins that do not have bubbles. It is a lot easier to achieve this when you make use of the right epoxy mixer. A good epoxy mixer with a well-designed and functional blade will guarantee an epoxy resin is well mixed and without bubbles.
How Long Do You Stir Epoxy Resin?
It would take longer to stir if you are doing it manually. But using an epoxy mixer should take a few minutes at most. However, it also depends on the quality of epoxy resin you are mixing, the pace of the epoxy mixer, and the thickness of the epoxy resin.
Should You Pour Hardener or Resin First?
It is better if you pour the resin first before the hardener. This would help in ensuring that both are properly mixed.
Conclusion
Recommending epoxy mixers is one of the most important things that this article hoped to achieve. We have enlightened you on what the recommended options have to offer but you should be careful not to compare them. This is because there is no basis for comparing some of them.
On the one hand, some are built for executing mixing tasks for heavy-duty operations. On the other hand, some are for mild mixing tasks such as preparing epoxy resins for coating artworks. So, just make sure you are properly guided when choosing even from the options recommended here.