Epoxy resin is one of the most utilized resins because of its several applications. It is great for flooring, writing, castings, and even art. As a result, epoxy pens are one of the most sought after pens by artists and the likes. This pen is beautiful, aesthetic and denotes art. Most people even go out of their way to make their own personalized epoxy pen choosing the color and style that they want.
There are several epoxy pens out there that you can buy. There are also tutorials that would teach you how to make an epoxy pen. However, it is not advisable. This is because there are several classes of epoxy and you need to get it right to achieve the maximum result for using the pen.
In light of this, we will be recommending some of the best epoxy pen products out there. But let's first discuss some of the things you should know.
What is an Epoxy Pen?
Epoxy pens are either glitter, writing, or marker pens made with epoxy cases. They are best for artistic works and projects because they can surface art.
Epoxy pens offer an easy way to write with epoxy resins. It is easy and fun and makes art outstanding. You can use it to add sparkle to your homework, birthday cards, or even office signings. 
Most epoxy pens are used to create highlights or add something catchy. They can however be used alone. Nonetheless, they create an amazing effect when used along with other mediums because of the different dimensions they create. Let us now take a look at what to consider when choosing epoxy pens.
Request for a Safety Data Sheet for the Resin Pen
Makers and manufacturers of resin pens can offer safety data sheets that give thorough information about how the ingredients of the epoxy pen were mixed. It should also come along with safety precautions and warnings against hazards. Sometimes, epoxy pens come with instructions on how to properly store the pen and dispose of the pen after use. 
Safety data sheets will also determine if the epoxy pen is non-toxic.
Know if the Epoxy Pen is Clear or Colorful
When buying epoxy pens, you'll need to understand color options. While they may not affect the output of your pen and what or how you write with it, color options are surely important. Most epoxy resins can be developed in any color. So, before ordering for the pen, you should know if the clear resin will become yellow overtime.
Should you be Concerned About Pinholes When Using the Pen?
Pinholes occur as a result of air bubbles that form in the epoxy resin during the process of curing. Pinholes are common after the epoxy case for the pen has been done. Manufacturers often fix this issue by installing colored epoxy in the pinhole areas.
Manufacturers may not be able to completely avoid pinholes, but the higher the level of pinholes, the shorter the lifespan of your epoxy pen. Epoxy pens with lesser pinholes are best.
Does it Give off Offensive Odor?
Also asking if the epoxy pen gives off an offensive odor. Some epoxy pens smell because of a bad curing process.
Know if You Can Use the Pen Outdoors
Epoxy resins pens are colorful but they have limitations. One of them is that some of them cannot be used outdoors. This is because discoloration can happen if they come in direct contact with sunlight. Generally, epoxy resins do not have UV protection and some epoxy products are temperature sensitive. 
Ask the manufacturer if the pen is suitable for indoors and outdoors. If it's suitable for outdoor use, confirm the coloration shelf-life.
Where Can I Buy an Epoxy Pen?
You can buy epoxy pens either offline or online. An online marketplace like Amazon is a good place to buy varieties of epoxy pens. You might have to check an offline store or bookstore near you if you're looking to buy an epoxy pen offline. Here are proven tips that will help you:
Buy from Solid Brands
Some brands are solid and have good reputations. Brands like Amazon and Walmart might be good marketplaces to buy epoxy pens. You can trust them because they are good at getting the most viable products. They are also reputable and even offer a return guarantee if you don't like the product.
Check a Bookstore or Art Shop
Art shops and large bookstores sometimes sell epoxy pens. This is because epoxy pens are artistic and aesthetic. If you're looking for a quick way to purchase epoxy men, you can walk into a bookstore or an art store and purchase one.
DIY
You can make a DIY epoxy pen. The process cannot be defined as fairly simple but there are lots of videos and tutorials online that'll walk you through. The drawback to this is that you might not be able to get very small quantities of epoxy resins because you are not producing much. For instance, you might need  just one pen.
Best Epoxy Pens in 2022
Yexiya Epoxy Pen
If you're looking for an epoxy pen designed to serve you, the Yexiya epoxy pen might be the best choice. It brings you  a fluent use experience and you can use it to make crafts. It is simple to use, reliable and lightweight making it easy to carry about.
Pros
Abundant Styles – The Yexiya epoxy pen comes in several styles that you can pick from. It has several prints including bohemian patterns and tie dye prints.
Comes as a Kit – The epoxy pen has a beautification kit that comes in assorted styles. 
Quantity – The ink does not run out quickly and the quantity is sufficient for daily usage.
Cons
Does not always measure up to defined size.
You can check the current price on Amazon
Liquid Silk Epoxy Pen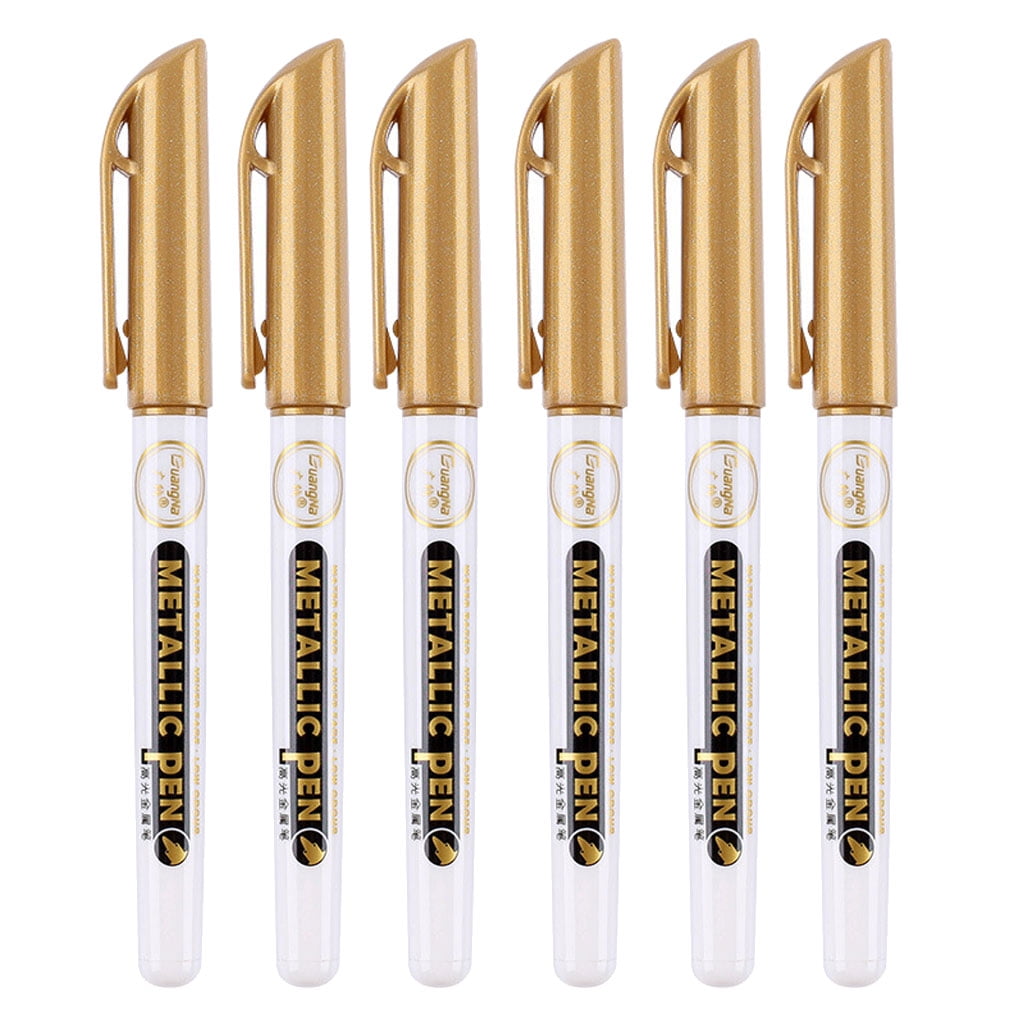 Liquid Silk epoxy pen is not just colorful, it shows elegance. The pen has an 0.7 mm fine tip that helps to add detail to any artwork or project. This makes it resemble a ball point paint marker.
The Liquid Silk epoxy pens work well and add sparkle to your projects. The color is also long lasting.
Pros
Has several pieces – Liquid Silk epoxy pen comes in about six pieces. This makes the mean even more durable and long lasting because if one runs out of ink, you can go to another.
Safe Ink – The ink of the epoxy pen is safe. The epoxy does not give off any odor or smell. There are also no harmful chemicals added to the ink.
Good for Calligraphy – Liquid Silk epoxy pen is good for drawing and calligraphy on any project.
Cons
Epoxy pen has only one design
You can check the current price on Walmart
Hayzuru Epoxy Pen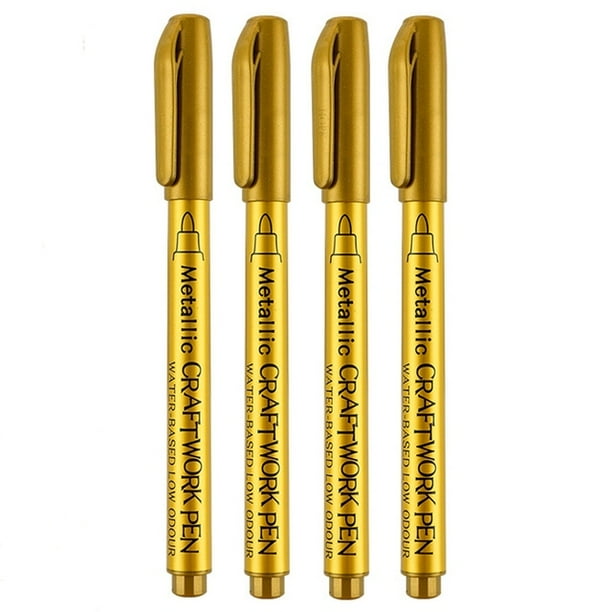 The Hayzuru epoxy pen has a writing size of 1.5 which is good for large calligraphy. It adds beauty to writing and drawing and can be used to create beautiful art striking effects. 
The epoxy pens dry quickly and are safe to use.
Pros
High quality – the quality of the epoxy pen is high. It is safe to use and has no offensive odor.
Fine Tip for Work– The pen has a fine ball point tip which provides smooth writing.
Can work on several surfaces.
Con
Works more like a paint marker.
You can check the current price on Walmart
Frequently Asked Questions
For How Long Will it Take for an Epoxy Pen to Dry?
Normally, epoxy pens take about 72 hours to dry. This is called the cure time. Whatever the time it takes to dry, the epoxy resin should undergo full cure before it is moved or sanding occurs. If the epoxy doesn't achieve full cure, the epoxy pen can become contaminated. You might start to experience smudging or uneven surfaces.
How Much Epoxy Do I Need for One Pen?
You'll need roughly 6ml of epoxy for one pen. Ensure you put in enough glitter to saturate the epoxy resin but do not add too much glitter. This is because it can affect the viscosity of the resin. The epoxy can also get tacky and difficult to cure.
Can you Add Acrylic Paint to an Epoxy Pen?
You can add acrylic paint to an epoxy pen. It remains one of the most utilized tints for epoxy resins. This is because acrylic paint is not expensive, available, and comes in different colors.
However, you need to use small quantities because acrylic paint gives a matte finish that can affect the glossiness of epoxy resins. It is also water based and can prevent full cure. Choose an acrylic paint with high quality so that you only need small amounts.
Final Thoughts
Epoxy Pen is one of the most used resins. It is aesthetic and good for the arts. You can buy an epoxy pen or produce your own DIY if you want. There are many places you can purchase one: online, in an art shop or bookstore.
There are several advantages epoxy pen offers but you have to be careful when choosing a product. You'll need about 6ml epoxy for one epoxy pen and it takes about 72 hours to achieve full cure.