A driveway made of epoxy may not be the first thing that springs to mind because it may appear to be complicated to the ordinary homeowner, but they are, however, often pretty simple. It only requires an ordinary concrete driveway with an epoxy coating applied on top. Although you can apply different designs, the only thing limiting your driveway design is your imagination because there are countless blends, color schemes, and texture tones to choose from.
In this piece, we will be compiling some epoxy driveway design ideas to encourage you to think outside the box and picture a distinctive property.
Gray Epoxy Garage Floor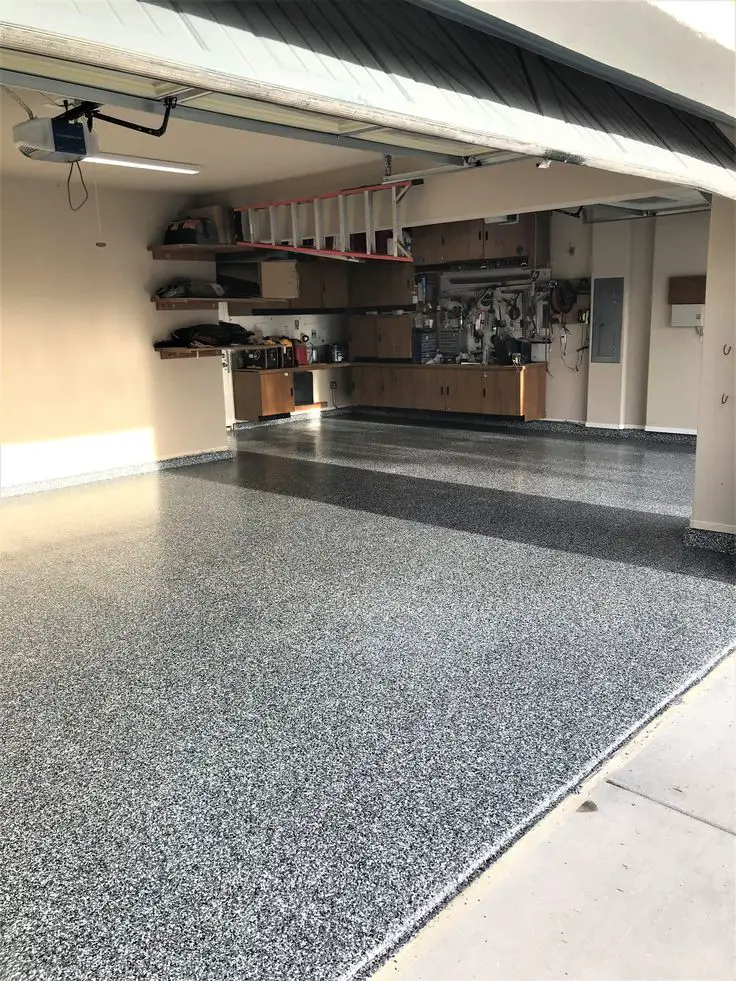 Source: Pinterest
A gray epoxy coating is perfect for a range of applications, including sunrooms, basements, and garages. It strikes a fine mix between high-gloss and low-gloss finishes, has a very quick cure time, and is simple to clean and maintain. It enhances the appearance of your concrete by making the flaws or fractures less obvious.
Pebble Resin Driveway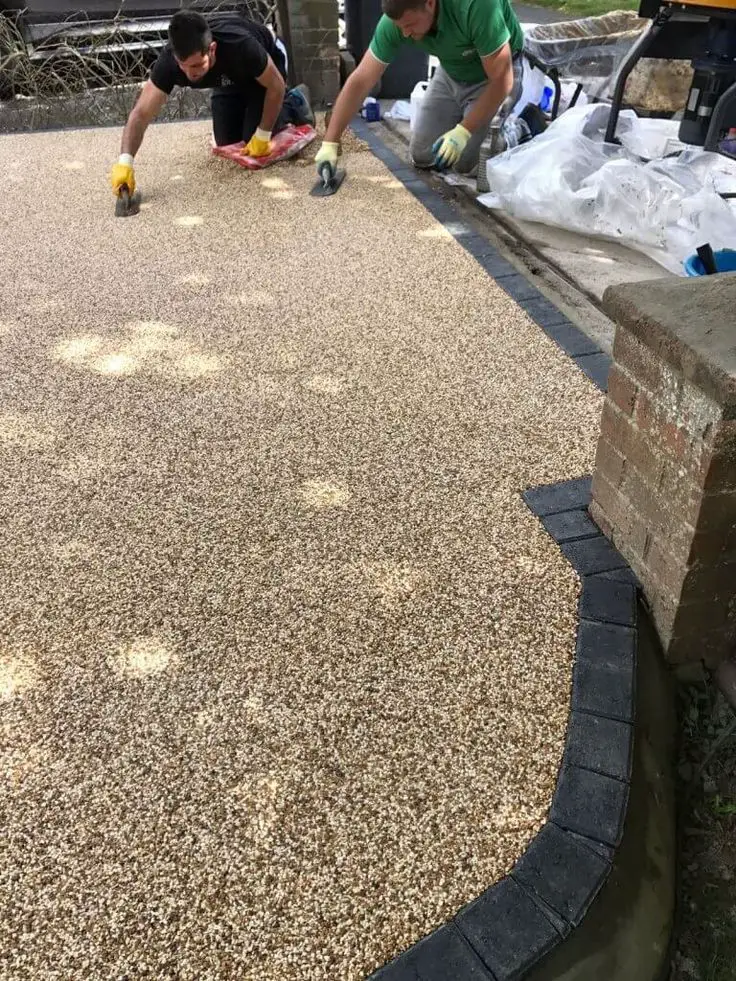 Source: Pinterest
Pebble resin driveways are appropriate for both historic and modern properties because of their adaptability. It may be the best option for resurfacing since they have the drainage property of loose gravel. You can select from a wide range of colors and designs to provide interest in larger driveway areas.
River Rock Epoxy Driveway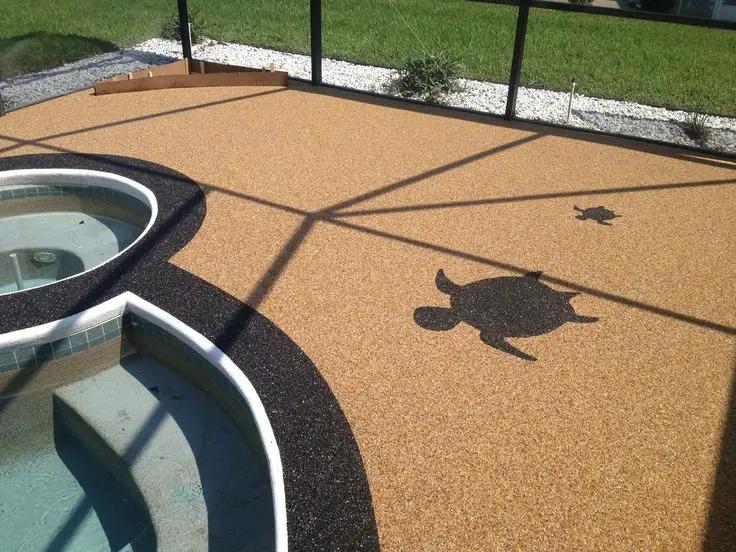 Source: Pinterest
Epoxy stone, often known as river rock, is made by combining epoxy with marble or other attractive natural stones. It can be used to restore, safeguard, and enhance basement concrete flooring. Even uneven concrete surfaces can be made more attractive and safer with river rock flooring.
Black Resin Driveway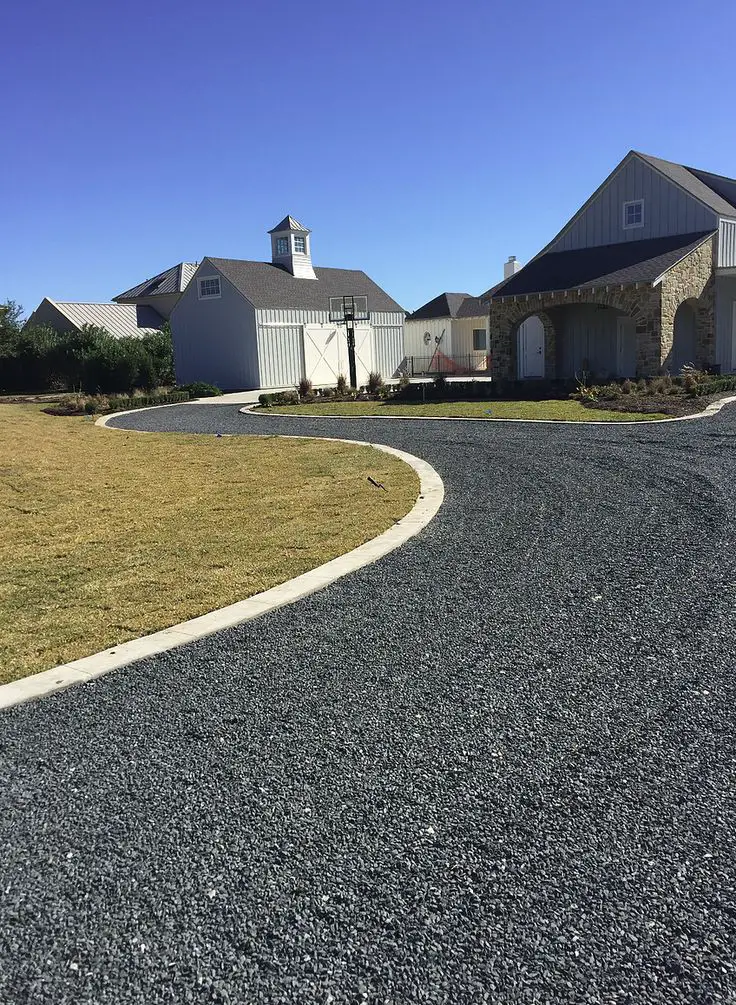 Source: Pinterest
Driveways made of black resin offer a striking contrast and make a huge statement if you're trying to upgrade your flooring.
Black Tarmac Driveway
Source: Pinterest
Tarmac Driveways are easy and quick to install. Additionally, they dry fast so you won't need to be kept out for a very long time and they significantly enhance the outdoor area.
White Resin Driveway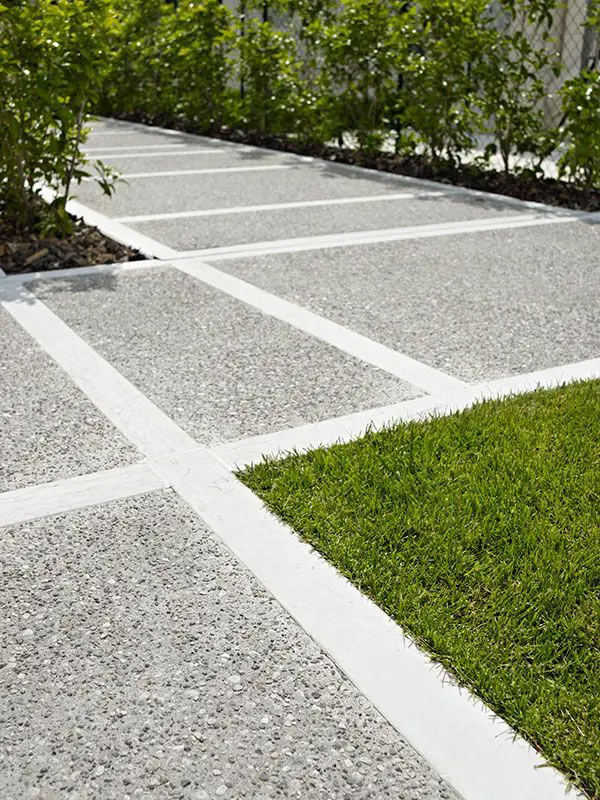 Source: Pinterest
A magnificent white resin driveway can be the solution if you'd want to create a contemporary, sleek appearance or add something special to the appeal of your home. You can choose the resin combination you want, from straightforward, pearlescent quartz white to cozy, inviting sunny tones.
Epoxy Flake Garage Floor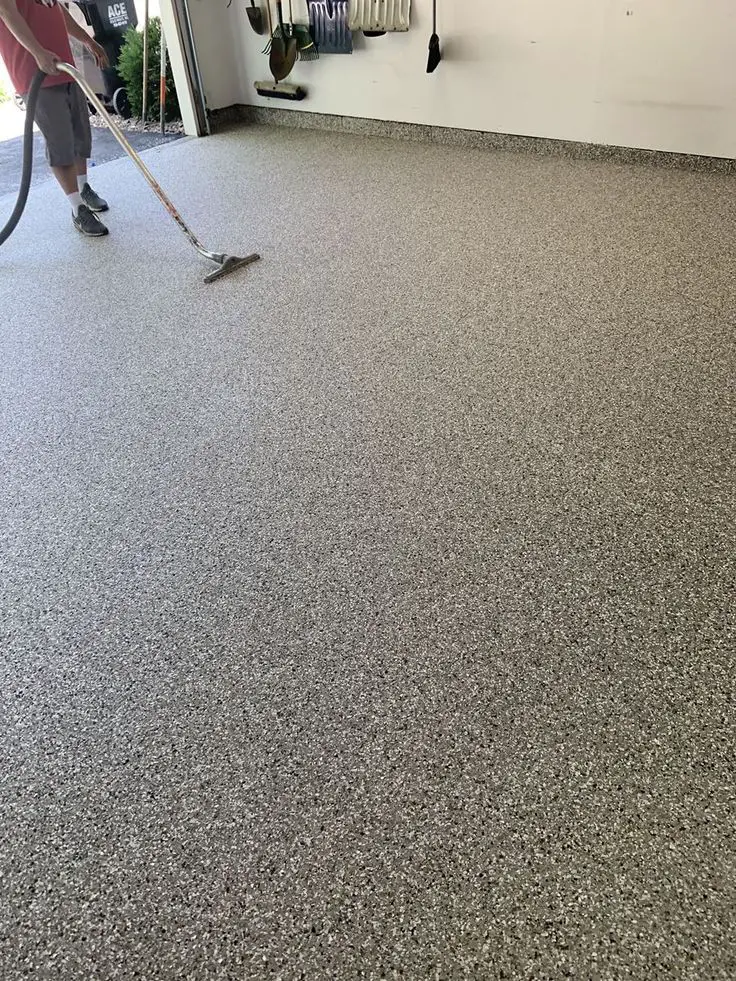 Source: Pinterest
Sometimes the only option is an epoxy flake floor if your concrete is severely cracked and spalled. In actuality, smooth, hygienic epoxy flake flooring is a customized, attractive coating.
Concrete Patio Floor Covering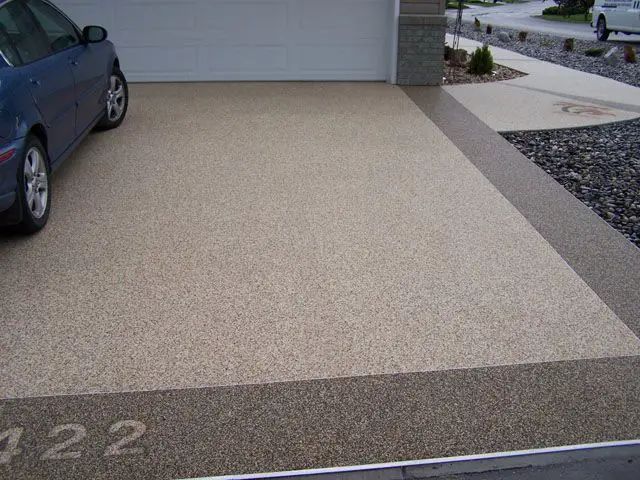 Source: Pinterest
Concrete patio flooring needs to be your top choice if you desire toughness, adaptability, and durability. It is sturdy and may assist to give your driveway a stunning appearance. Generally, the flooring has low maintenance requirements, it merely has to be swept and hosed down occasionally to stay clean.
Stained Concrete Driveway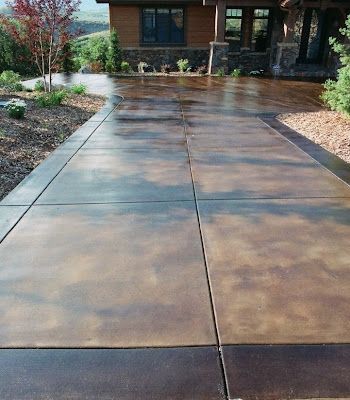 Source: Pinterest
When acid stains made up of metallic salts, hydrochloric acid, and water interact with the calcium hydroxide component of concrete, they permanently alter the color of the concrete and cause a stain. Because of this, acid stains are occasionally referred to as "reacting stains."
Red Resin Driveway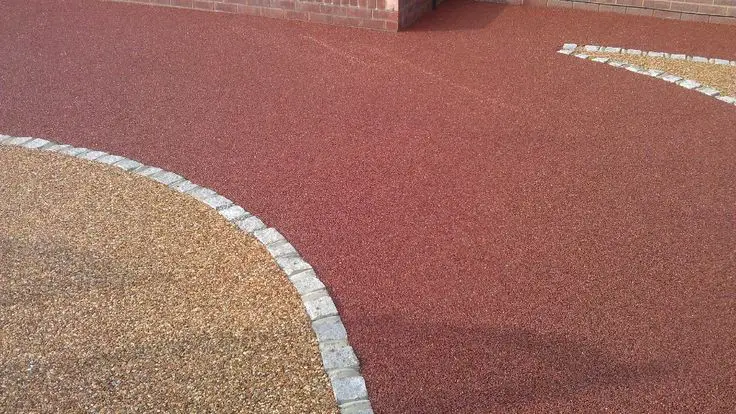 Source: Pinterest
Red resin is an excellent alternative for a driveway. Graded components add depth of color and shade to the material. You can choose a red resin driveway blend with traces of black, green, or silver for an excellent finish. This adds character while balancing historic properties.
Epoxy Metallic Driveway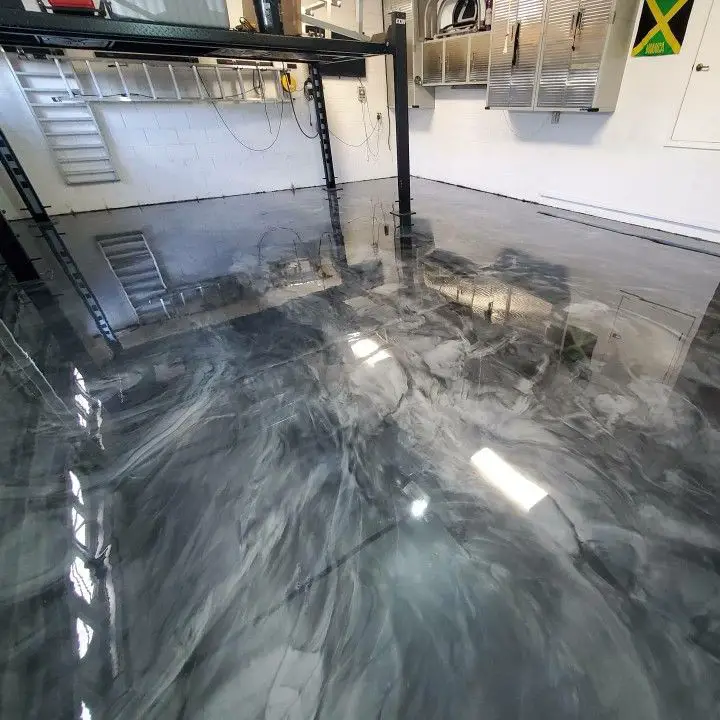 Source: Pinterest
The final finish of metallic epoxy flooring is mostly determined by the installer's artistic talent and level of experience. To assist create as much contrast as possible within the metallic layer itself, metallic floor coating techniques often include a black primer.
Danish Quartz Driveway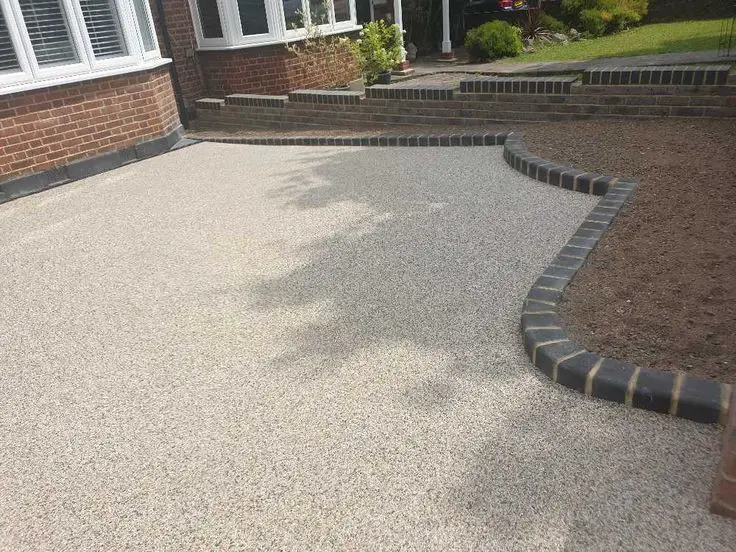 Source: Pinterest
The Danish Quartz aggregate, which comes in a lighter color version, is perfect for simple landscape designs and driveways made of natural-looking cream resin.
Resin Patio Driveway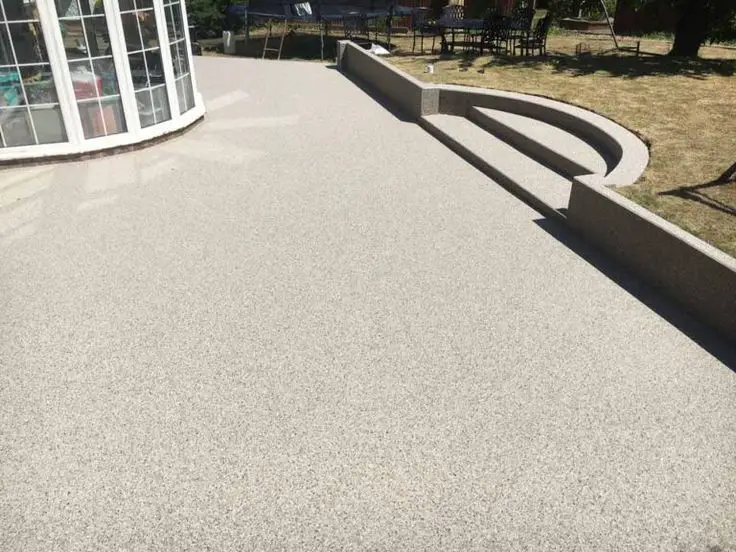 Source: Pinterest
An attractive substitute for other surfaces like block pavement, decking, or gravel is resin-bound patios. They first come in a variety of colors and textures that allows you to use your imagination to make a room that reflects your choice. Due to their permeability, flooding and standing water problems are rare.
Additionally, they are UV resistant, so exposure to the sun won't cause them to fade or change color.
Sandstone Driveway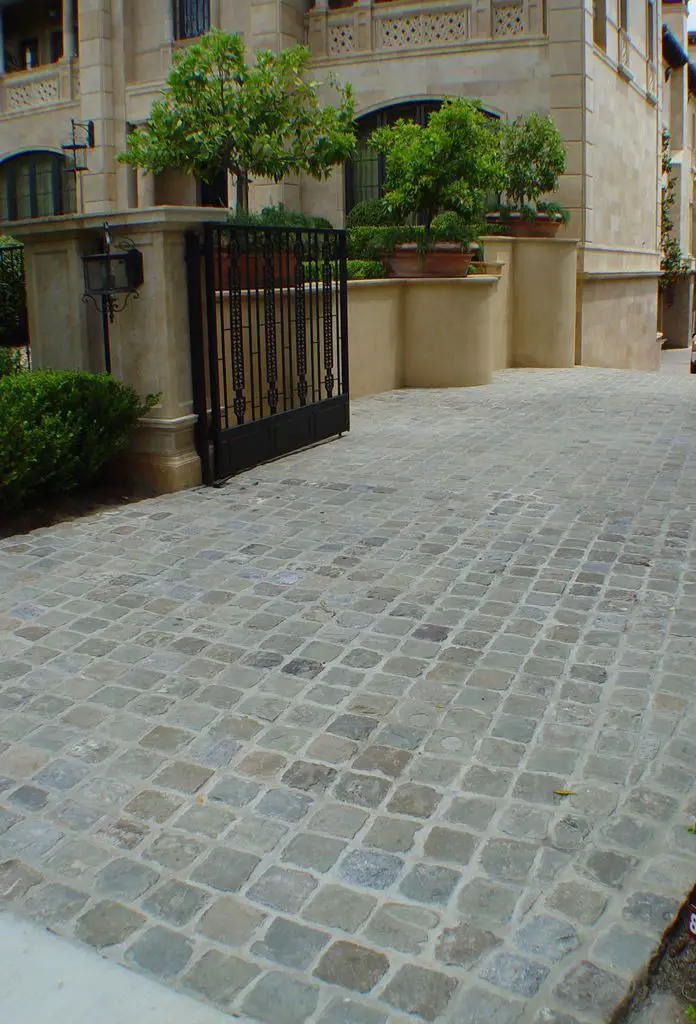 Source: Pinterest
Sandstone is a sedimentary rock that is made up of quartz or sand grains that have been cemented together. It has a built-in natural beauty and comes in a variety of natural variances in color, tone, and grain.
Yorkstone Driveway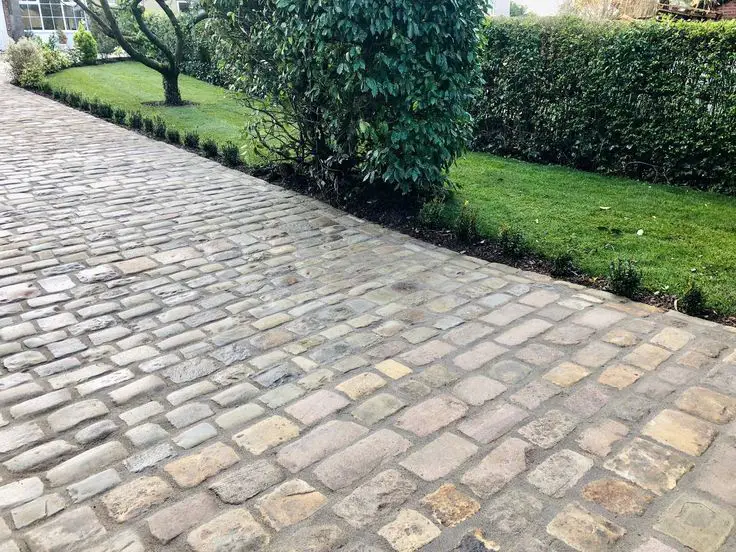 Source: Pinterest
Yorkstone has been a top-choice driveway material for ages because it is aesthetically beautiful, incredibly durable, and appropriate for a wide range of applications.
Cobblestone Driveway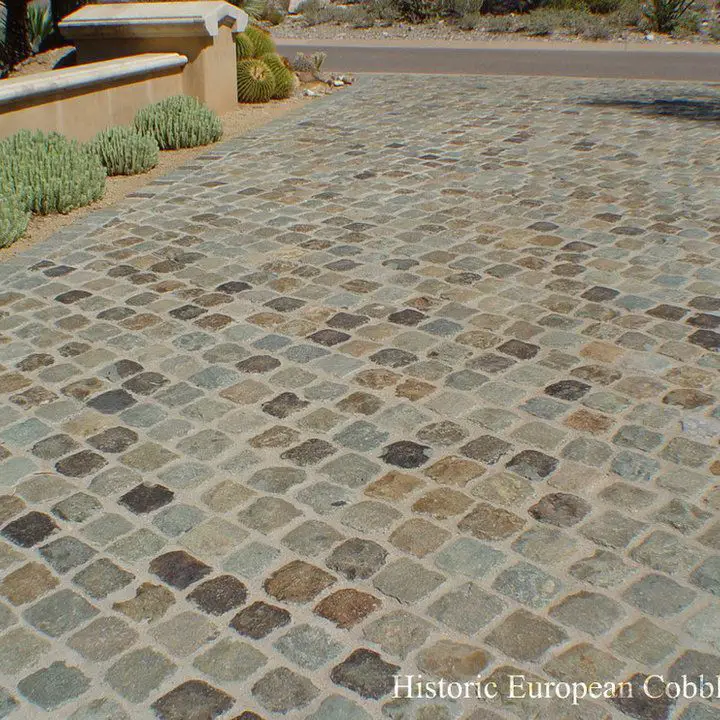 Source: Pinterest
A Cobblestone driveway is a great choice for giving a new construction or an older home a dash of beautiful country character. Asides that it gives your house a distinctive appearance, it also raises the property's value.
Porcelain Tile Driveway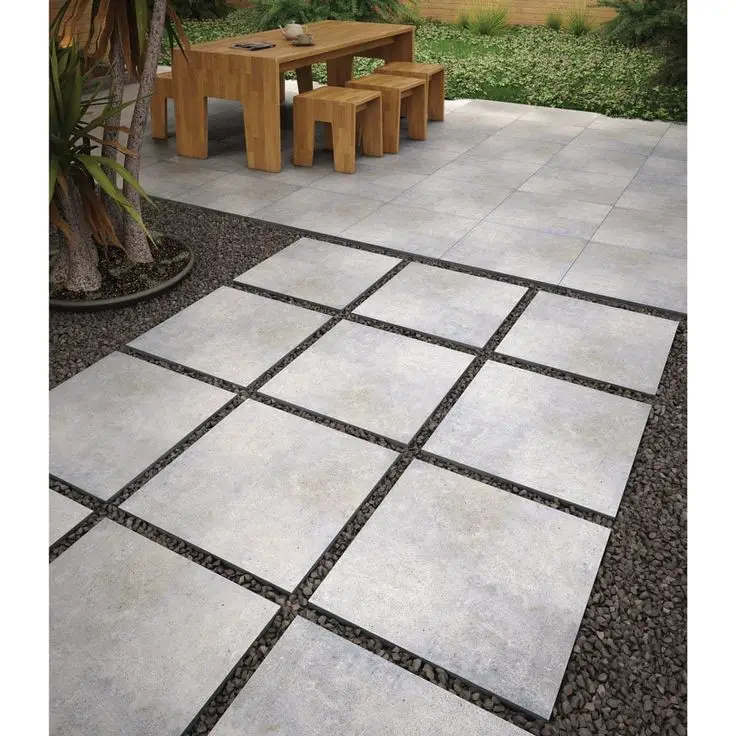 Source: Pinterest
This driveway idea enables the development of a fully distinctive style that enables you to create gorgeous step risers and elaborate border or walkway patterning. With natural wood, it provides a particular touch of flair to your paving design.
Natural Flagstone Driveway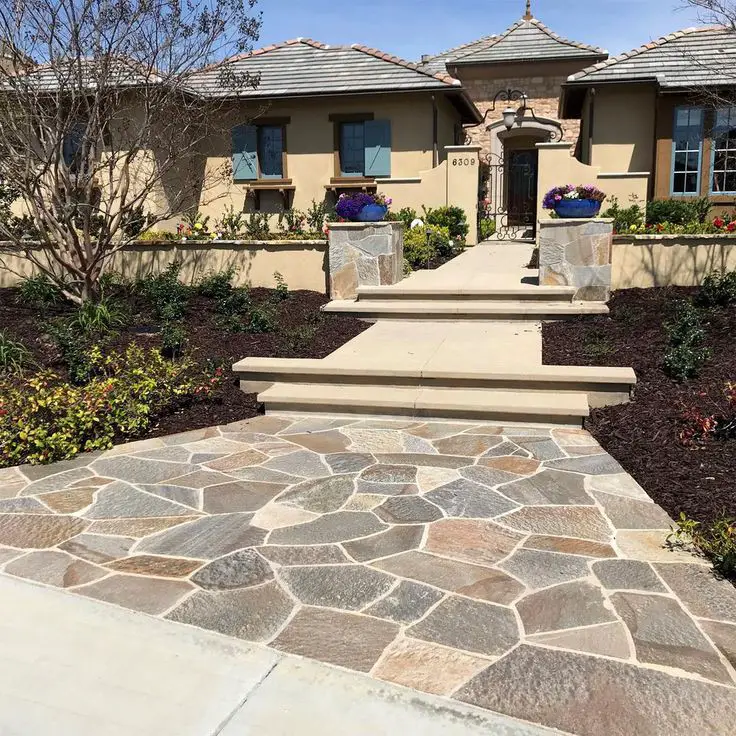 Natural stone block paving gives a driveway pavement that will endure a lifetime, regardless of how old or new your home is. Your driveway will always seem different as a result of the lovely, rich tapestry of natural stone and its range of colors and textures.
Smooth and Sawn Sandstone Paving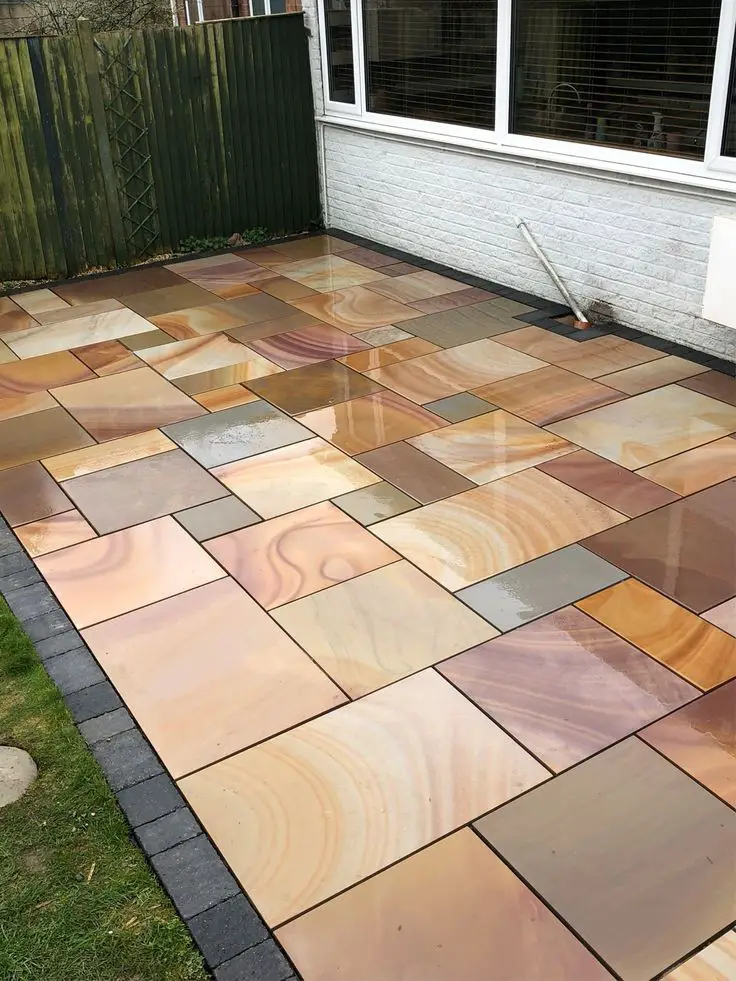 Source: Pinterest
Buff smooth sandstone is a durable and low-maintenance paving made of buff-sawn sandstone. Warm hues, constant veining, and swirls harmonize with both traditional and modern settings.
Resin Bound Gravel Driveway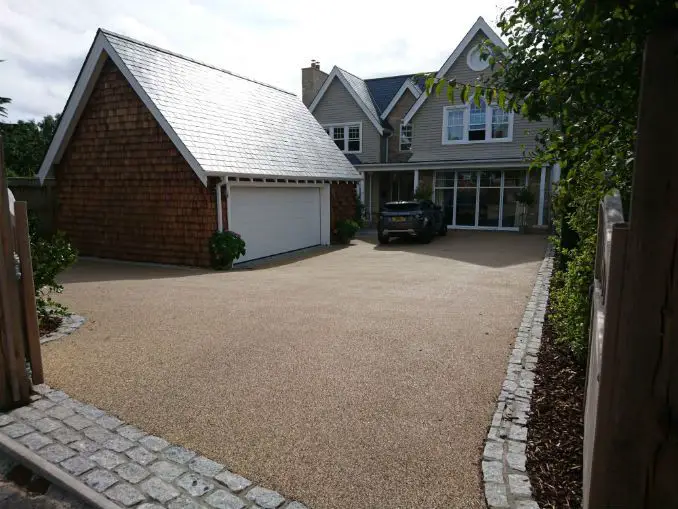 Source: Pinterest
Resin driveways look more modern and distinctive than traditional alternatives, which has contributed to their popularity. It is a mixture of small aggregate stones and resin that has been hardened. Resin driveways provide a surface that is well-drained and it resists frost and has an anti-slip covering.
Shadestone Flooring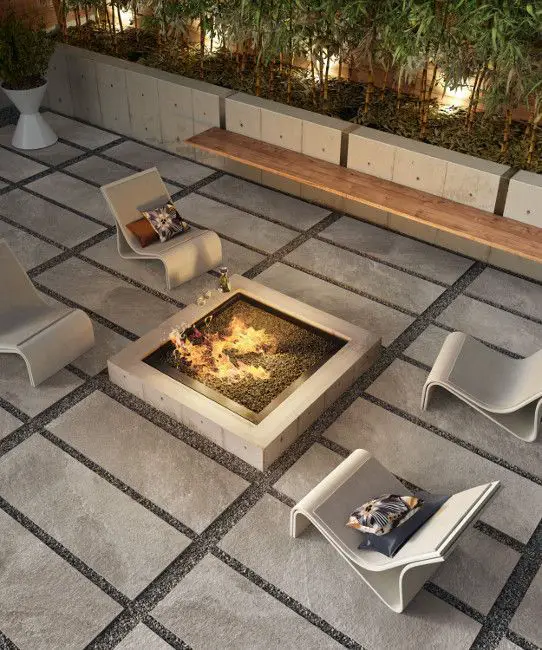 Source: Pinterest
Shadestone is a delicate collection with strong aesthetic individuality. It's distinguished by rich three-dimensional designs and an almost unlimited graphic variety.
Cement Effect Tile Flooring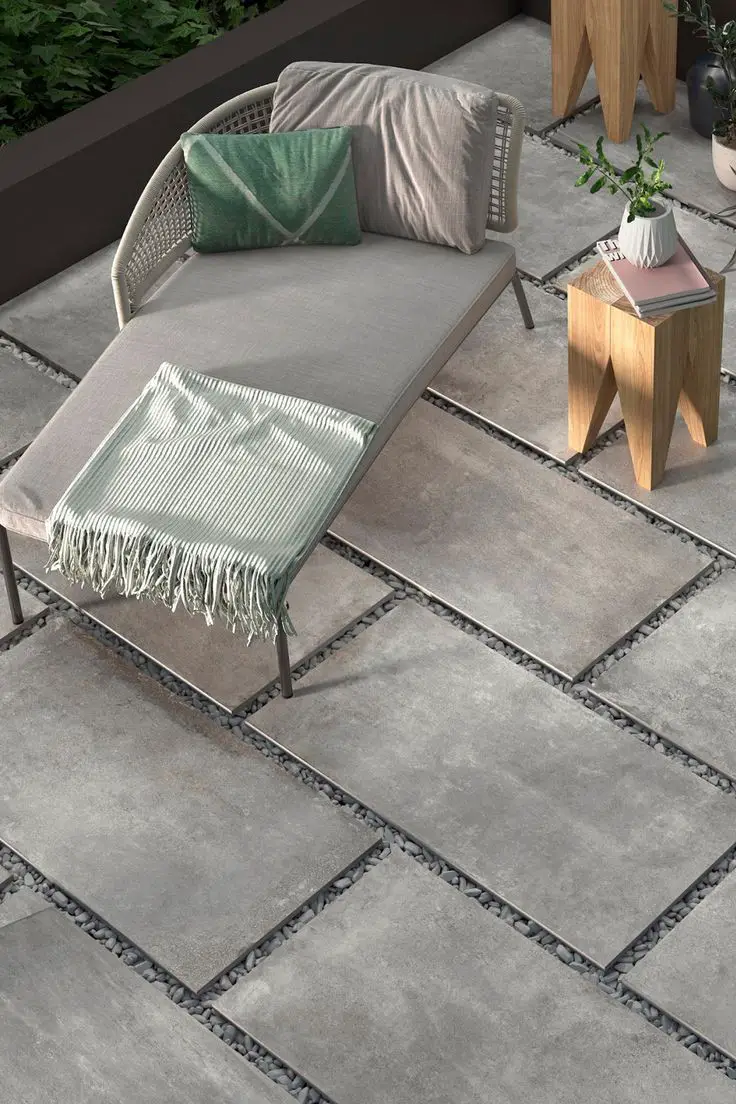 Source: Pinterest
Cement-effect floor tiles can add character and a sense of urbanism to a variety of locations. It is non-slippery and offers a delightful tactile experience, also making it the finest alternative for outdoor flooring.
Recycled Rubber Flagstone Stepping Stone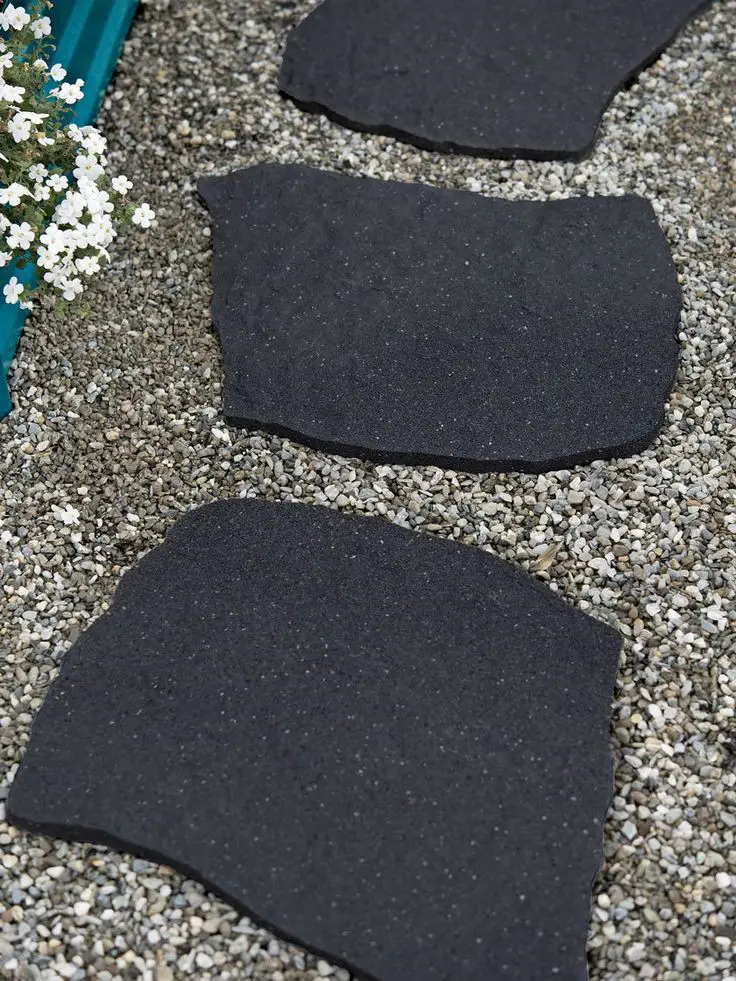 Source: Pinterest
It is a lightweight, simple-to-install, and long-lasting solution for constructing a distinctive pathway, patio, or landscape. The irregular shape mimics the real flagstone. They are generously sized and offer you just enough spring in your step.
Steel Gray Resin Driveway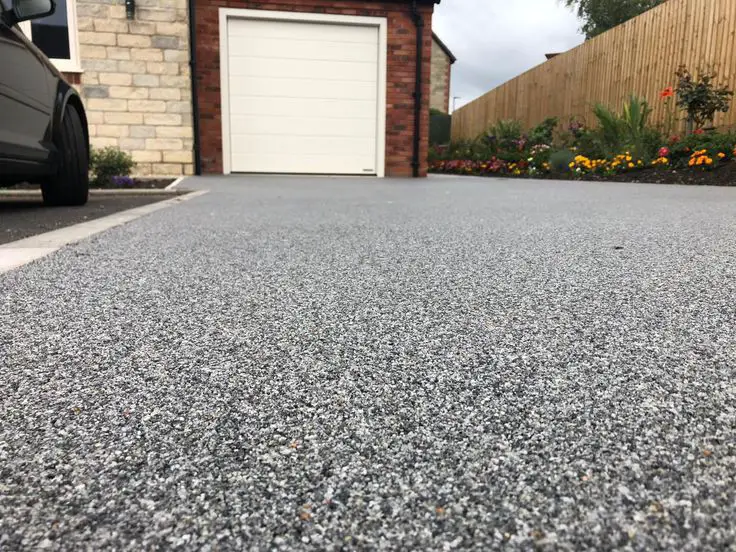 Source: Pinterest
This helps with the gorgeous design of a driveway that will significantly improve the look of your property, increase its curb appeal, and raise the value of your house.
Frequently Asked Questions
How Long Does Epoxy Last On Driveway?
Epoxy coatings typically have a 10-year lifespan. Epoxy driveways provide several advantages over conventional concrete surfaces, including the fact that they are highly durable, easy to maintain, and available in a variety of finishes.
What is the Difference Between Resin Bonded and Resin Bound Surfaces?
Resin-bonded surfaces have loose stones spread on top of resin that has been applied to the surface and is impermeable to water, whereas resin-bound surfaces involve first combining resin and stone before pouring it on the surface. It is permeable in its case.
However, the two processes have different feels and finishes.