Epoxy fillers for wood are adhesives used to seal up wood damages like rot and cracks, etc. They are widely used for wood repair because they give damaged wood a durable finish so there's no need to replace the wood. Epoxy wood fillers are made from a mixture of resin and hardener, which are mixed to form a putty-like consistency.
After wood filler is applied and it cures, the epoxy wood fillers can be leveled and colored to mask repaired surface and make it blend with the wood. They are resistant to water, UV light, and other external elements, that's what makes them a great option for indoor and outdoor use. This article will cover the various kinds of epoxy wood fillers available, how to use them, and some tips for achieving the best results.
Types Of Epoxy Wood Fillers
In the market, several types of epoxy wood fillers are available for purchase and use. They are available for purchase in different forms and have peculiar properties depending on the brand. They usually come in the following forms:
Pourable (Liquid) Epoxy Wood Filler
The pourable epoxy wood fillers come in liquid form that is easy to prepare and apply to cracks in wooden structures, tables, and other furniture. After application, the liquid epoxy filler is left to cure, which can then be sanded to make the surface even.
Two-Part Epoxy Wood Filler
A 2-part epoxy wood filler comprises a hardener and resin mixed in a ratio recommended by the manufacturers. The combination results in a thick mixture commonly used to repair and fill up gaping holes or cracks in the wood.
Powdered Epoxy Wood Filler
Technically the epoxy filler is not used in powdered form. Powdered wood fillers are mixed with epoxy resins to achieve a thickness. The mix is used to seal up the cracks in wood and repair other little errors. One of the reasons why woodworkers commonly use it is its ability to bond well with wooden surfaces.
Exterior Epoxy Wood Filler
There are epoxy fillers that are made specifically to be used for outdoor woodwork. Some properties that make them suitable for exterior use are their high UV light tolerance and moisture resistance. They commonly repair wooden decks, doors, fences, etc.
Colored Epoxy Wood Fillers
Although epoxy wood fillers can be painted and stained there to the colors of your choice, wood fillers come in a range of custom-made shades. This is a welcome option because sometimes it is difficult to find paint or stain that matches the pre-existing color of the wood being repaired.
What Are The Benefits Of Using Epoxy Wood Fillers For Your Wood Repairs?
Epoxy Wood fillers are one of the common ways of fixing damages. Other options include replacing the entire wood or using regular wood fillers. However, using epoxy wood fillers has many advantages as opposed to using traditional wood fillers or replacing the whole work.
Durability
Epoxy wood fillers are far more durable than regular wood fillers; they have been known to last longer than the wood they are used to repair. Plus it protects the sealed areas from new damages for a prolonged period.
Saves Time
Using epoxy wood fillers is more time-saving than doing a complete replacement. Especially when dealing with large-scale projects, using epoxy wood fillers will reduce the time spent doing a new project. Handling repairs will take a short time, and the finished work will still be durable enough to last a couple more years.
Saves Cost
Epoxy wood fillers are more pricey than regular wood fillers. But using them to repair damages is much cheaper than embarking on a new project to replace any wood works that need repairs. Except a substantial portion of wood has been weakened beyond the point of repairs, it's better to go for the more pocket-friendly alternative.
Some Of The Best Epoxy Wood Fillers
ABATRON WoodEpox
Abatron epoxy is a 2 part filler for repairing damages to wooden structures, fences, window frames, doors, and other wooden structures. Additionally the product can be used to repair other non-wooden structures.
The UV-tolerant and water-resistant properties make it perfect for interior and exterior wood repair projects.
Pro
Heat and water-resistant properties.
Easy to prepare and use.
Very durable.
Low Odour.
It's easy to paint or stain
High bonding strength.
Cons
Prone to crystallize after being stored for a while.
Pricey compared to regular wood fillers.
J-B Weld Kwikwood Epoxy Putty

J-B Weld Kwikwood is a 2 part epoxy wood filler for rebuilding damaged wood. The mixture is used to seal up wood permanently.
The final product is highly durable, with repairs lasting for extended periods. It's not prone to shrinkage and can be stained to other colors that blend with wooden surfaces.
Pros
Easy to DIY.
It is versatile and can be used to fix damages of different forms.
Cures quickly.
Does long-lasting repairs.
Cons
It tends to dry up too quickly, requiring users to work quickly when using the product.
DAP 541 series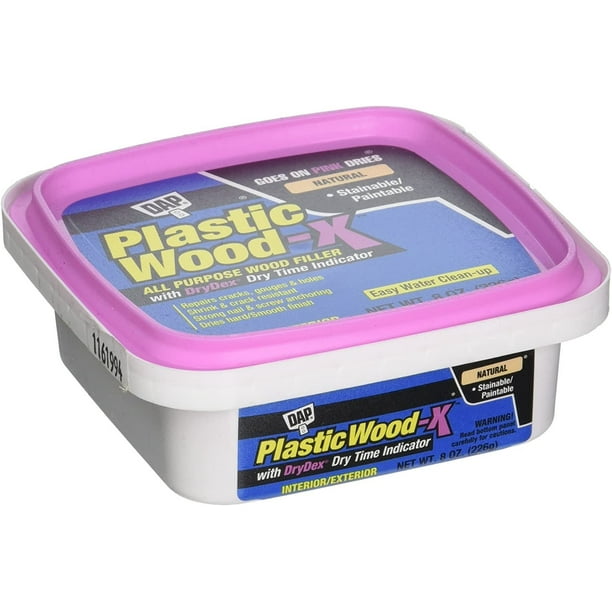 DAP 541 is one of the most accessible wood fillers, and it has color-changing properties that indicate when it is fully cured and ready to sand. The formula is easy to use, and the product dries to a natural wood finish.
It is used to repair and fill in cracks and damage to your home's wooden structures. The product allows finishing touches, such as painting, to be applied.
Pros
Easy to handle and use.
No sagging effect after application.
Cures quickly.
Color changes aid users in knowing when it has been cured.
Cons
It dries up too quickly, even in the containers.
Not suitable for storing for an extended period.
BONDO Home Solutions

Bondo is created mainly for external use, which makes it also suitable for indoor use, especially on raw wood. Due to its water-resistant properties, even outdoors, it doesn't shrink and has long-lasting sealing effects.
Bondo is easy to use and can be used for repairs, even with metals or other materials.
Pros
Has water-resistant properties.
Not prone to shrinkage or sagging.
Durable.
Waterproof.
It can be painted and stained for an improved look.
It can be used to repair lots of other materials other than wood.
Cons
Toxic wood filler.
Prone to failure and shrinkage.
Bad odor.
TotalBoat Fixwood
TotalBoat created this 2-part wood filler for fixing extensive wood damage. The two parts have to be mixed by hand, but first, you must ensure you have gloves on to avoid harming your skin.
Fixwood is very tough to crack and lasts long on sealed surfaces. Its rugged nature allows external fixtures to be added onto its surface without fear of breaking.
Pros
Water-resistant.
Makes durable finishes.
It can be painted over.
Cons
Pricey.
Long curing time.
Difficult to apply.
Minwax High-Performance Wood Filler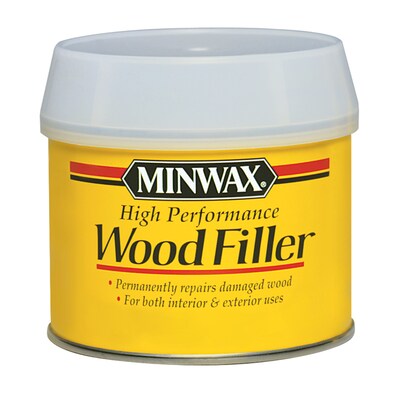 Minwax 2-part epoxy wood filler is great for fixing up cracks, rots, and any other form of damage in wood. It has properties that make it suitable for both outdoor and indoor wood repairs. It has been used to fix damages to household wooden furniture and even wooden structures fitted outdoors.
Pros
Products are effortless to use.
It is cost-friendly.
Versatile epoxy wood filler.
Water resistant properties.
Comes in several colors.
Short curing time.
Cons
It can only be painted and stained by a selected number of products.
Coconix Floor and Furniture Repair Kit
Coconix epoxy wood filler is made specifically for floor and furniture repairs. This is great because many wood fillers are not precisely suitable for furniture repairs, probably because it's hard to find colors that effectively mask the repaired areas.
It comes with virtually anything you require for the mixing and application. Users can access the manufacturer's personalized guides on how to carry repairs on their damaged floors or furniture.
Pros
It is a cost-effective option because products can be used more than once.
It can be applied to damaged surfaces easily.
It is suitable for covering large surface areas.
It has a wide range of color finishes to choose from.
Cons
It takes a long while to dry.
Not stainable.
Only suitable for interior furniture repairs.
Aqua Coat Wood Grain Filler
Aqua Coat Wood Grain Filler is an entirely transparent filler paste that can fill the pores on your wooden surface without coloring.
The water-based product gives your work a clear, glass-smooth finish, even on hard-to-fill woods. It can be tinted for your convenience.
Pros
Seals damages thoroughly.
Gives a clear and clean finish.
Cures quickly.
Easy to apply.
Requires minimal priming or sanding.
Eco-friendly product.
Cons
Prone shrinkages.
Primarily suitable for indoor use.
Gorilla All-Purpose Wood Filler

Gorilla All Purpose Wood Filler is the standard product used by people for long-term repairs of cracks and holes on their wooden surfaces. It allows finishing touches such as sanding, painting, staining, etc.
It is easy to spread and gives off a professional-looking finished product. Gorilla wood filler can be used for indoor and outdoor repairs. Though water resistant, it is not ideal for continuous water submersion.
Pros
Easy to Spread
Gives off a smooth, natural finish
High-performance staining and paintability.
It is shrinking and crack-resistant.
Cons
Hard to squeeze out and very dry.
Does not spread easily.
Elmer's Carpenter's Wood Filler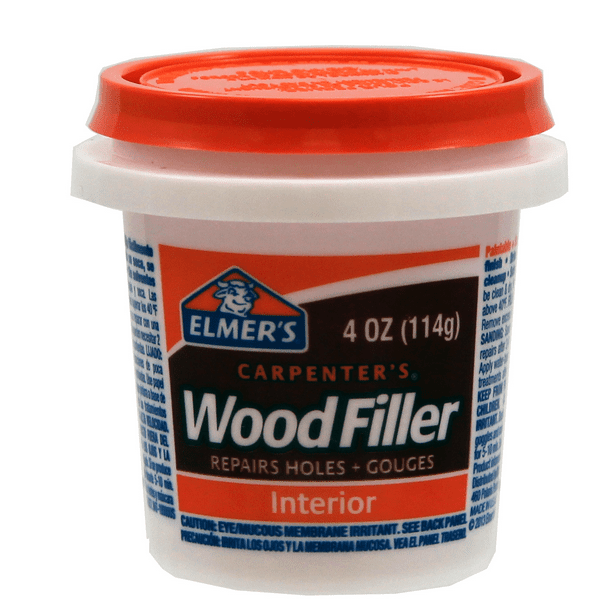 Elmer's Carpenter's Wood Filler is suitable for repairing damages such as cracks, dents, and scratches on wood or painted surfaces. It is solvent free and allows for easy water cleanup.
It is yellow on application and can be rubbed in smoothly. Though relatively easy to use, it is suited for internal purposes only.
Pros
Has good adhesive properties that allow paint and stain to stick on properly.
Resistant to shrinking and cracking.
Cons
Suitable for only interior usage.
The filler can only be used for indoor repairs.
Frequently Asked Questions
How Can You Apply Epoxy Wood Filler?
Applying epoxy wood filler is a straightforward process, but there is a proper way to go about it. Before using any epoxy wood filler, prepare the wood by drying it thoroughly and checking the extent of rot/damage. Get rid of any rot in damaged regions so the surface doesn't keep rotting even after wood filler has been applied.
Then you'll prepare and apply your consolidant and filler afterward, and once it's dry, you can add some color.
Can I Paint Over An Epoxy Wood Filler?
After applying epoxy wood fillers to seal damaged and cracked wood surfaces, you can paint over it or stain the wood filler. Allow the wood filler dry for up to 24 hours, then prime and sand the surface to level it, so it's relatively easy to paint and stain the epoxy wood filler.
Is Wood Filler Waterproof?
It depends on the product. While most manufacturers claim their epoxy wood fillers are waterproof, when you try using some of the products, you'll quickly discover that not all are fit for outdoor woodwork.
You will notice that the water that gets on the surface will cause the places where the wood filler was used to begin to crack up. However, customer reviews are an excellent way to know if a wood filler is genuinely waterproof.
How Long Does Epoxy Wood Filler Take To Dry?
Epoxy wood fillers take about 30 minutes to dry, typically under optimum weather conditions. However, you can leave it overnight or for at least 24 hours before sanding.
Conclusion
Finally, epoxy wood fillers are a valuable tool for repairing and filling in wood surfaces. They offer a strong and durable solution and its resistance to moisture and external elements, makes it perfect inside and outside repair projects. Epoxy wood fillers are also easy to work with and can be sanded, painted, and finished to match the surrounding wood.
However, following the manufacturer's instructions carefully and allowing the filler to fully cure before proceeding with any additional steps is crucial. With proper use, epoxy wood fillers can help you achieve professional results and extend the life of your wood projects.