Epoxy resin tables have evolved as fascinating items, compelling with their elaborate patterns and transparent attractiveness, which result from the marriage of art and utility. These tables capture everything from whirling cosmos and peaceful rivers to vibrant floral gardens and brilliant diamonds via the skillful interaction of epoxy resin and diverse materials. These tables, which come in a variety of colors and textures, can turn any room into a lively canvas.
We'll take you on a tour of 22 unique epoxy table resin ideas, revealing the stunning originality and functionality that these stunning works of art offer to home furniture.
Ocean-Inspired Resin Table with Blue Waves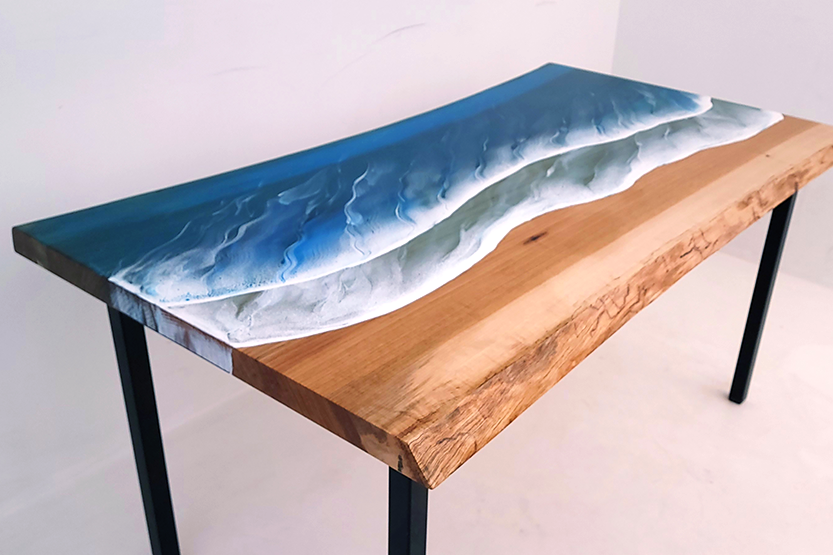 Image Source: Chagrin Valley Custom Furniture
Enjoy the magic of the sea at home with a resin table that has hypnotic blue waves. This table, made from epoxy resin, depicts the ebb and flow of the ocean, bringing a sense of seaside calm to any room. It's a beautiful piece that serves a practical purpose, and it'll add some of the sea's calming allure to your interior design.
Ideas to mull over:
A classic wooden table with modern strength, ideal for dining or working together, and bringing a touch of natural warmth to any area.
Entice peace and the comforting embrace of the ocean into your home with the graceful movement of blue waves over the table.
White walls and ceilings provide an airy environment that is conducive to both creative exploration and peaceful reflection.
Bold and cutting-edge, the black metal legs provide your furniture a sense of robustness and contrast while also adding a touch of industrial style.
River Table with Wooden Slabs and Resin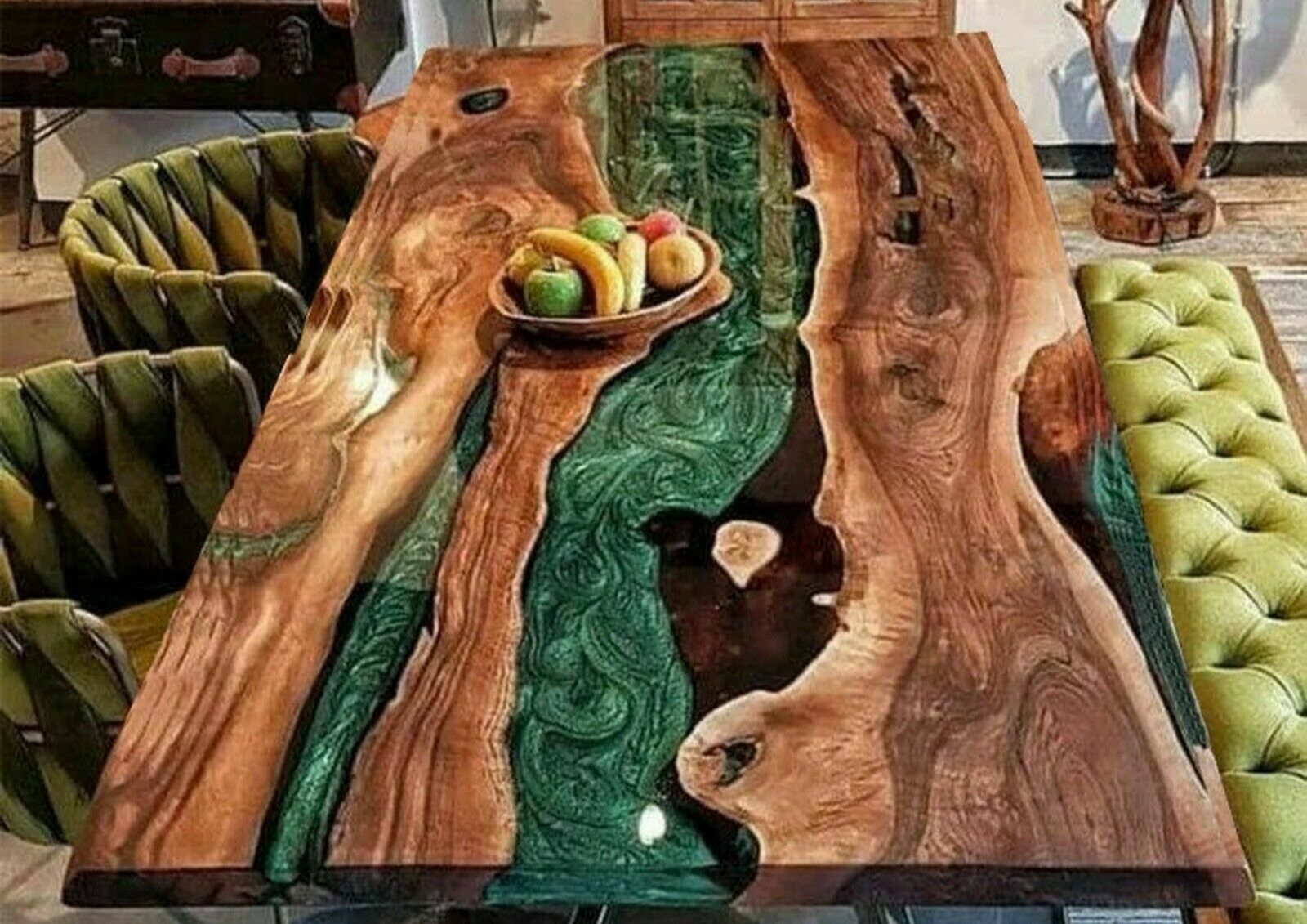 Image Source: eBay PH
Take in the allure of a river table, crafted from resin and wood. The resin gracefully follows the wood's inherent curves, providing a magnificent synthesis of organic and modern aesthetics. This table is a showpiece that captures the allure of wood and resin craftsmanship.
Ideas to mull over:
This table, which features the natural beauty of hardwood slabs encased in resin to evoke the movement of rivers, is a wonderful example of the intersection of nature and art.
Green highlights integrated throughout the hardwood table's design create a beautiful balance, bringing a breath of nature into your home.
The green upholstery on the plush tufted sofas and chairs creates a relaxing atmosphere that's perfect for catching up with friends or enjoying some quiet time alone.
When it comes to creating a comfortable and welcoming environment, nothing beats the look and feel of rich oak flooring.
Wooden racks, which serve a practical purpose while also looking great, are a great way to combine the benefits of storage and decoration.
Inviting visitors into your house with a touch of natural grace, the wooden entrance table serves as a focal point and sets the tone for the room.
Galaxy Resin Table with Cosmic Patterns
Image Source: Anycubic
A stunning galaxy resin table with exquisite cosmic motifs will take any room to the next level. The brilliant colors and deep blues and purples produce a work of art that is worthy of the heavens and portrays the wonder of the cosmos. This table will be the star of your room, bringing the magic of the universe right into your living room.
Ideas to mull over:
A circular table made of contemporary metal and resin is an excellent example of this style since it is both eye-catching and functional.
An artistic voyage through the heavens may be had without leaving home thanks to a resin table decorated with a stunning galaxy motif.
Pinewood flooring's natural beauty will enhance your surroundings with a timeless appeal that will go well with any design scheme and create a comfortable ambiance you'll love.
Wooden chairs with plush gray cushions provide a haven of relaxation and visual enjoyment, striking the ideal balance between practicality and aesthetic appeal.
Geode-Inspired Resin Table with Vibrant Crystals
Image Source: Pinterest
Experience the enchanted qualities of a resin table modeled like a geode and studded with sparkling gems. Colors are vibrant and lifelike, evoking the appeal of precious stones and converting the room into a haven of natural beauty and sophistication. Intricate features of Earth's riches have been beautifully rendered in art and nature on this table.
Ideas to mull over:
A resin table fashioned like a geode masterpiece will add a touch of magic to any room; its colorful crystals will remind you of the beauty of nature's hidden treasures.
Unveil a table with a natural beauty, its resin surface encasing green crystals among irregular edges, adding a touch of asymmetrical elegance to your space.
Gray textured tile flooring is the ideal base for any smart interior design project, as it combines rustic allure with modern style.
Vintage-themed table With Antique Carved Design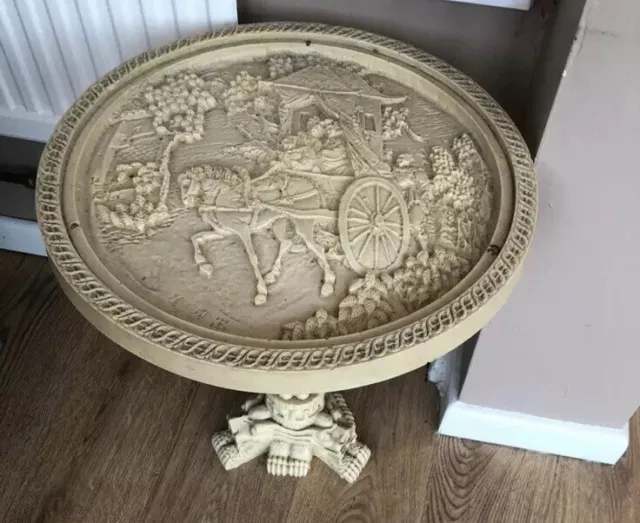 Image Source: PicClick UK
A vintage table with ornate carvings will transport you to a more refined past. This work of art's attention to detail evokes a bygone period of richness and refinement, making your home seem like something out of a fairy tale. Take in the allure of this fascinating blend of past and present style.
Ideas to mull over:
Bring the past into the present with a white, circular table that combines ancient carvings with contemporary utility.
Oak wood flooring is a natural canvas that oozes warmth, providing a sense of center to your area with its traditional good looks and lasting elegance.
Gray cement walls provide a neutral background for a variety of design expressions, bringing a sense of urban flair to your space.
Decorating with white furniture and wall decorations creates a heavenly ambiance by reflecting light and expanding the feeling of space.
Beach Scene Resin Table with Sand and Shells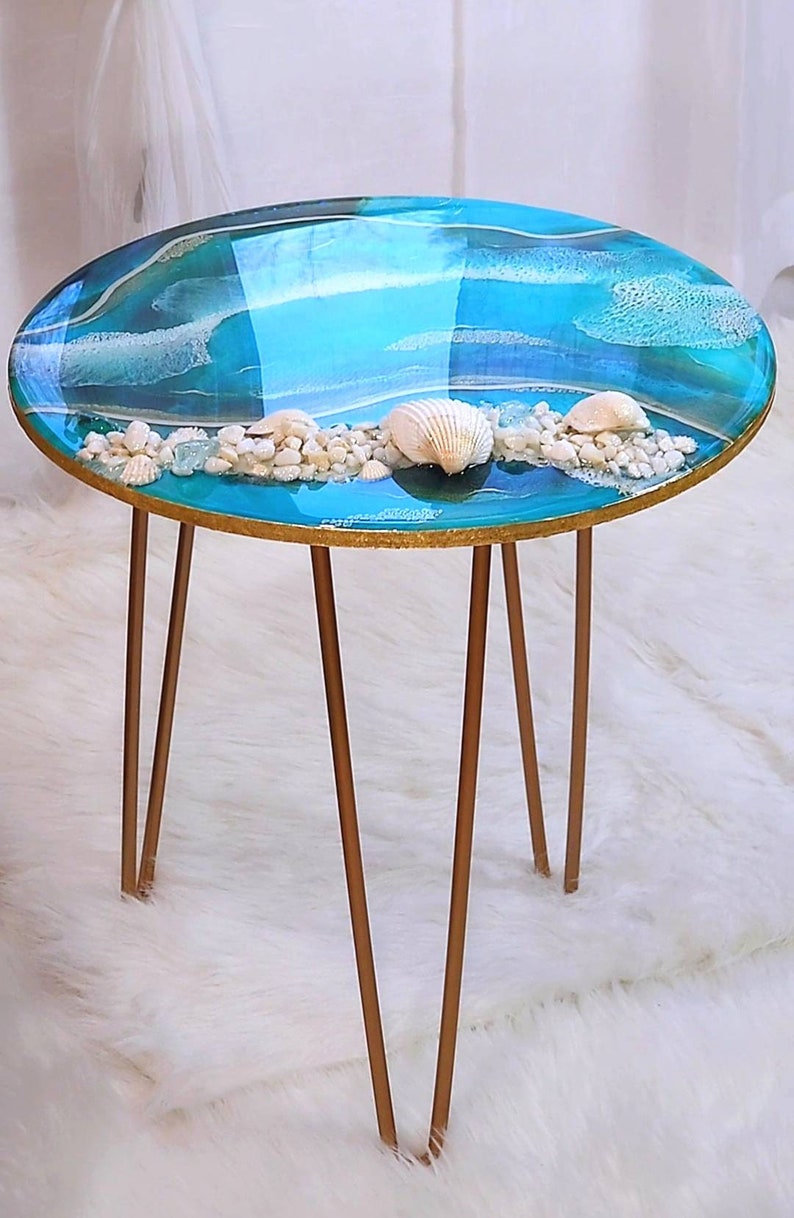 Image Source: Etsy
A beach scene resin table with genuine sand and shells will transport you to a tranquil seaside setting. The relaxing vibes of the beach may now be enjoyed inside thanks to this table's ability to recreate the spirit of the coast. Take in the soothing ocean-atmosphere as you relax in front of this one-of-a-kind work of art.
Ideas to mull over:
White fur carpets are a splurge but they're worth it since they offer a tactile impression of warmth and elegance to any room.
A shining statement of refinement, brass table legs give your furniture a luxurious and enduring appeal.
Round resin tables evoke the seaside with their exquisite beach-inspired designs that evoke the soothing beauty of crashing waves.
Delicate shells decorate the resin table, creating a captivating mosaic that will last forever and remind you of the joy you had on the beach.
Industrial-style table with resin and Metal accents
Image Source: Amazon
Feel the appeal of modern industrial style with a table that combines resin and aluminum. The juxtaposition of the rough with the smooth gives your area an air of urban chic and contemporary elegance. Enhance your home's aesthetic with a multipurpose accessory that reflects the elegance of technological progress in industry.
Ideas to mull over:
Take comfort in the stunning contrast between raw texture and sophisticated design achieved by a resin table accented with tough black metal.
Wooden inlays in the resin tabletop provide a homey touch, fusing natural beauty with cutting-edge craftsmanship to create a showpiece that is both elegant and approachable.
Add a touch of class to your interior design with black metal table legs, a sleek and solid base that strikes a perfect mix between contemporary aesthetics and structural strength.
Resin Table with Metallic Pigments for a Shimmering Effect
Image Source: MID GlassFibre Supplies Ltd.
A resin table with metallic hues will provide a glamorous and eye-catching touch to any room. The tabletop is transformed into a hypnotic canvas by the movement of light and colors, which makes it beautiful from any vantage point. Take in the beauty of this creative focal point, which glows brightly.
Ideas to mull over:
A resin table with blue metallic colors captures the spirit of stars and galaxies in a practical piece of art, transporting the viewer to another world.
A black hardwood table is both classic and contemporary; it can be used in a variety of settings and looks great with a wide range of decor.
Metal table legs, although little, can make a big effect in a room by adding a touch of glitz and modern style.
Enjoy the sumptuous softness of a gray fur carpet, which will make any room seem more welcoming and luxurious.
A haven of tranquility, a gray couch provides the best of both worlds: stylish comfort and the ability to blend in with any existing design.
Coral Reef Designed Resin Table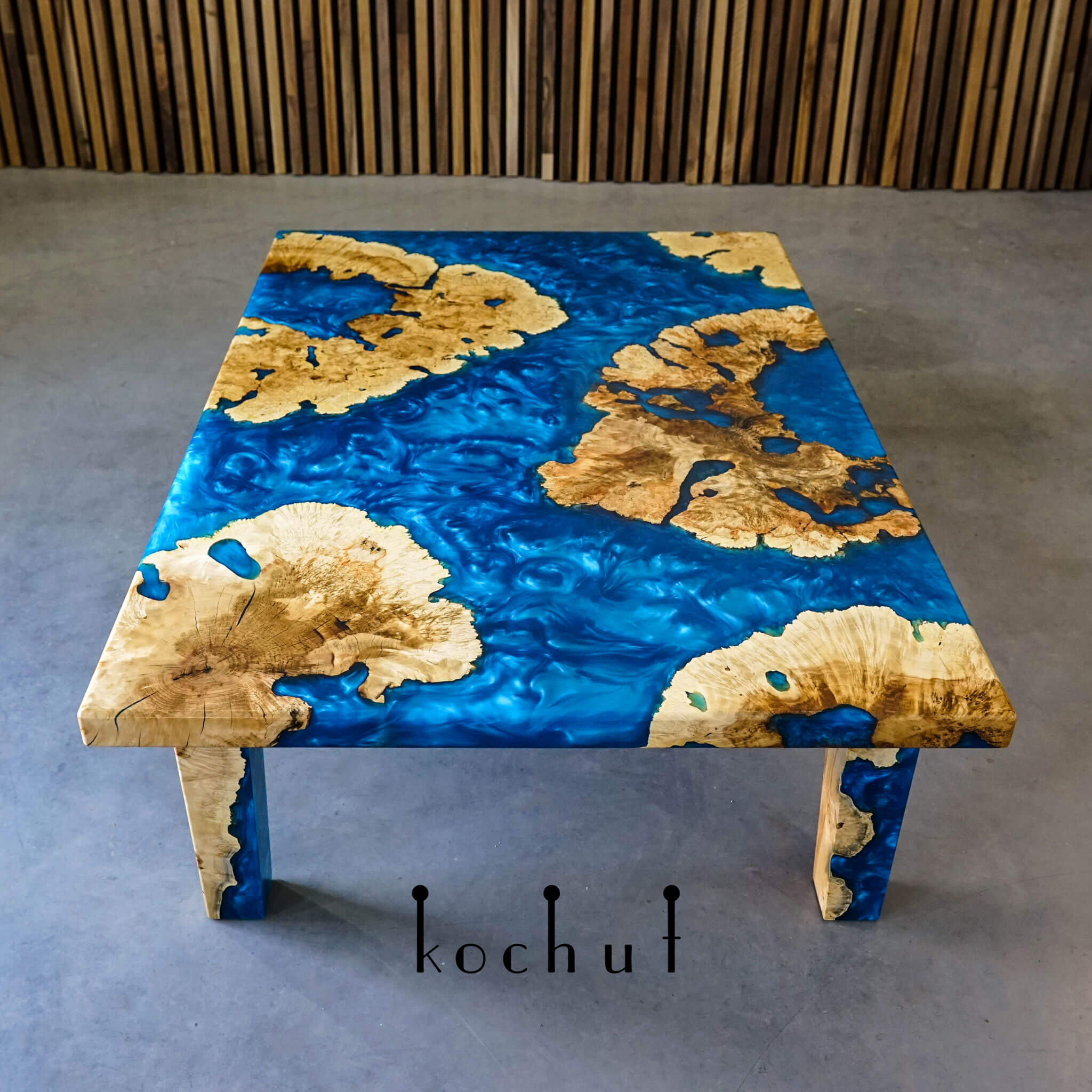 Image Source: Kochut Interiors
A coral reef-themed resin table will transport you to a magical underwater realm. This labor of love vividly recreates the colors and textures of a coral reef, bringing the allure of the ocean's depths into your home. Explore the beauty of aquatic life with this intriguing piece of utilitarian art.
Ideas to mull over:
Gray smooth cemented flooring is the epitome of urban elegance; it's a blank slate that can accommodate any design scheme thanks to its simple but striking appearance.
Bring the beauty of the sea with you by furnishing your space with a resin table decorated with coral reefs.
The tranquil allure of water and sky is evoked by the resin table's subtle blue elements, which provide a touch of peace to your space.
Infuse your room with natural warmth and tropical tranquillity by installing bamboo walls, a sustainable and aesthetically pleasing option.
Resin table with a mirrored or reflective surface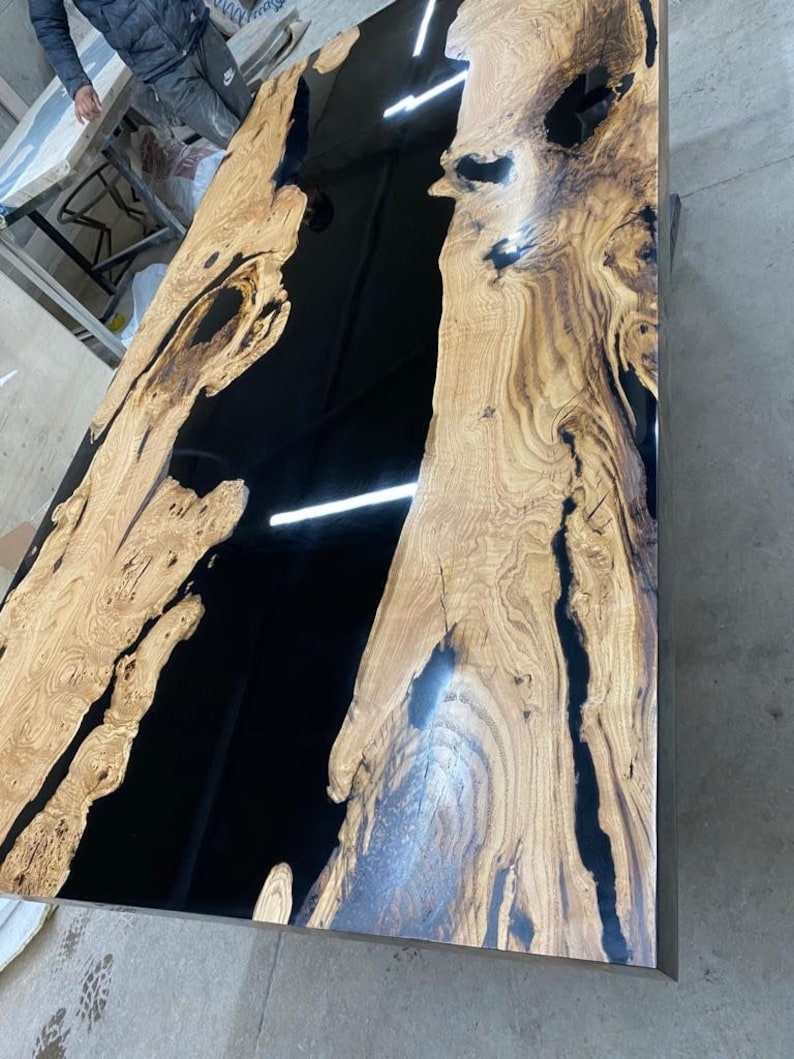 Image Source: Etsy
Use a resin table with a reflective surface to enjoy the enchantment of reflection. This table magnifies the beauty of its surroundings, giving the impression of more room and light. Take in the fascinating dynamic between the tabletop and its setting.
Ideas to mull over:
A resin table with a black mirrored top will bring any room to the next level of sophistication by combining contemporary beauty with reflection.
Feel the warmth and richness added by the table's beautiful combination of natural elements and handiwork, wood that has been immersed in resin.
Rectangular resin tables are the epitome of modern minimalism, with their clean lines and flexible practicality lending itself to a wide range of interior design schemes.
Gray smooth cemented flooring is a modern base that complements minimalist decor and sets the tone for the rest of the room.
Resin Table with Leaves and Flowers
Image Source: Pinterest
A resin table with intricately carved leaves and flowers is a lovely way to bring the outside inside. Beautifully capturing the intricate features of plant life, this sculpture will add a touch of natural sophistication to any room. This one-of-a-kind piece of utilitarian art will transport you to a world of enchanting beauty.
Ideas to mull over:
Green grass, the carpet of nature underfoot, is a reviving and refreshing background that brings the outside in and gives your area a sense of life.
Pinewood resin table legs are a great way to strike a balance between rustic allure and cutting-edge design, thanks to their innovative fusion of natural textures and sleek, modern lines.
An artistic marvel, this black resin tabletop has bright flower and leaf designs that bring the outside in.
A square resin table with a lower shelf and a higher shelf above it is a great way to combine practicality and aesthetic interest.
Rustic Resin Coffee Table with Tree Trunk Base
Image Source: Pinterest
Adopt a woodsy aesthetic with a resin coffee table that seems like it was made from a tree trunk. The resin beautifully captures the original tree trunk's texture and character, bringing a bit of nature within. Submerge yourself in the alluring blend of wood and resin art, rich with warmth and authenticity.
Ideas to mull over:
Recognizing the value of imperfection, a rustic resin table combines traditional materials with cutting-edge design to highlight the allure of rough surfaces.
A gray polypropylene carpet with varying designs is a flexible addition that may boost the look and feel of any room.
Adding a splash of green to the rustic resin table brings together natural beauty and skilled workmanship.
Rest easy on a gray plush couch, a haven of tranquility that can complement a wide range of design schemes.
Sap cherry flooring provides a rich and welcoming setting that oozes timeless beauty and gives a home more depth and character.
Epoxy Resin Dining Table with Inlaid Stones
Image Source: Pinterest
An epoxy resin table with inlaid stones is a sophisticated addition to any dining room. The stones incorporated in the resin give this table a wonderful aesthetic and tactile appeal, highlighting its natural beauty. This piece of utilitarian art brings a touch of nature into your dining area, creating a relaxing atmosphere perfect for enjoying a meal.
Ideas to mull over:
The many shades of stones seen in nature create a visually and texturally appealing surface that brings nature within.
Create a one-of-a-kind and very practical work of art by fusing together rustic allure and modern artistic skill in the form of a wooden resin table, where the splendor of nature meets cutting-edge design.
A translucent mirror case embedded in the resin table serves as a captivating focal point, catching light and reflections to amplify the sense of depth and mystery in your home.
Resin Table with Map Inlay and Compass Rose
Image Source: Pinterest
Get your bearings with a compass rose and map inlay in a resin table. This one-of-a-kind decoration invites you to explore uncharted territories while also elevating the aesthetic value of your home with its sophisticated blend of creative inventiveness and cartographic allure. Get lost in the attraction of decor that was inspired by travel.
Ideas to mull over:
Resin tables with a square base and a circular top are very flexible since they can be used for a variety of purposes and make for a striking focal point thanks to their contrasting shapes.
Find creative inspiration for your desire to see the world in a gray resin table with a compass and map inlays.
Embedded in the resin table's surface are shimmering white highlights that provide a beautiful play of light and color, elevating the overall appearance of the room.
Set the tone with beige cemented flooring, and a calm background that works well with a wide range of design choices for a well-rounded, comfortable space.
Epoxy River Table with Glow-in-the-Dark Resin
Image Source: Reddit
Glow in the dark epoxy table brings the fantasy to life. It's a breathtaking exhibition of nature's splendor by day, and an ethereal show with glowing highlights at night. Art and science come together harmoniously in this table, making for a fascinating addition to any room.
Ideas to mull over:
Sap cherry flooring is an appealing canvas that oozes timeless beauty and fills your room with rich natural tones, so kick back and take in the ambiance.
With a sap cherry resin table, you can showcase the natural beauty of wood and resin in one beautiful design that will wow both traditional and modern audiences.
Epoxy river tables with glow-in-the-dark resin invite you to lose yourself in a mystical world, thanks to their alluring combination of aesthetics and technology.
Light gray walls are a symbol of contemporary serenity; they serve as a blank slate against which a variety of decorative schemes may be shown while yet maintaining a calm, airy environment.
Resin Table with Embedded Coins or Tokens
Image Source: Pinterest
A resin table with inlaid coins or tokens can provide a sense of history and individuality to any room. This table is a beautiful and practical way to display special mementos or hobbies, transforming commonplace items into conversation starters. Dive deep into the meanings and histories of the embedded pieces.
Ideas to mull over:
European oak flooring provides a sturdy and beautiful base while also adding a touch of class to whatever room it's installed in.
A metallic round resin table is an eye-catching focal point that will elevate your interior design to the next level.
Create a mosaic of your life's milestones by encasing tokens and coins in resin and placing them on a table.
Resin tables with hidden drawers are innovative and practical, providing hidden space without sacrificing the table's clean lines.
Resin Table with Vintage Postcards Encased
Image Source: Pinterest
A resin coffee table covered with old postcards is a great way to inspire travel and fond memories. The allure of long-gone times and faraway places is captured in this one-of-a-kind work; delve into tales and recollections as you examine the meticulous details frozen in resin. Take in the beautiful synthesis of past and present found here.
Ideas to mull over:
Take a cue from nature with a circular wooden table, a classic that will never go out of style and whose organic texture will bring warmth and character to any room.
Postcards sealed in resin may be used to create a one-of-a-kind coffee table that turns sentimentality into art.
You may combine presentation and organizing in one chic package by making use of the open storage space under the resin table top.
Use maroon brick flooring to make a statement and provide a sense of history and warmth to your home.
Weaved mini-cabinets and chairs introduce handmade elegance into your home design by providing texture and a feeling of workmanship.
Use gray and white seats and storage to provide a nice, balanced contrast that will work with a wide range of design schemes.
Epoxy Resin Table with Car Parts 
Image Source: Pinterest
An epoxy resin table decorated with automobile components is a fitting gesture toward this end. This table celebrates mechanical progress by recycling automobile parts as decorative accents that complement the table's practical use. Experience the fascination of automobile design while giving your home its own look and feel.
Ideas to mull over:
Brass table tops are the pinnacle of sophistication, projecting an air of opulence and refinement and serving as a fascinating focal point in any room.
Add a dash of contemporary intrigue with metallic black legs and a frame for a sleek and edgy look.
Make a resin table out of recycled metal and automobile components for a unique take on the industrial look.
A brown carpet will provide coziness to any room, as well as textural contrast, comfort, and compatibility with a wide range of design schemes.
Resin Table with Moss and Stones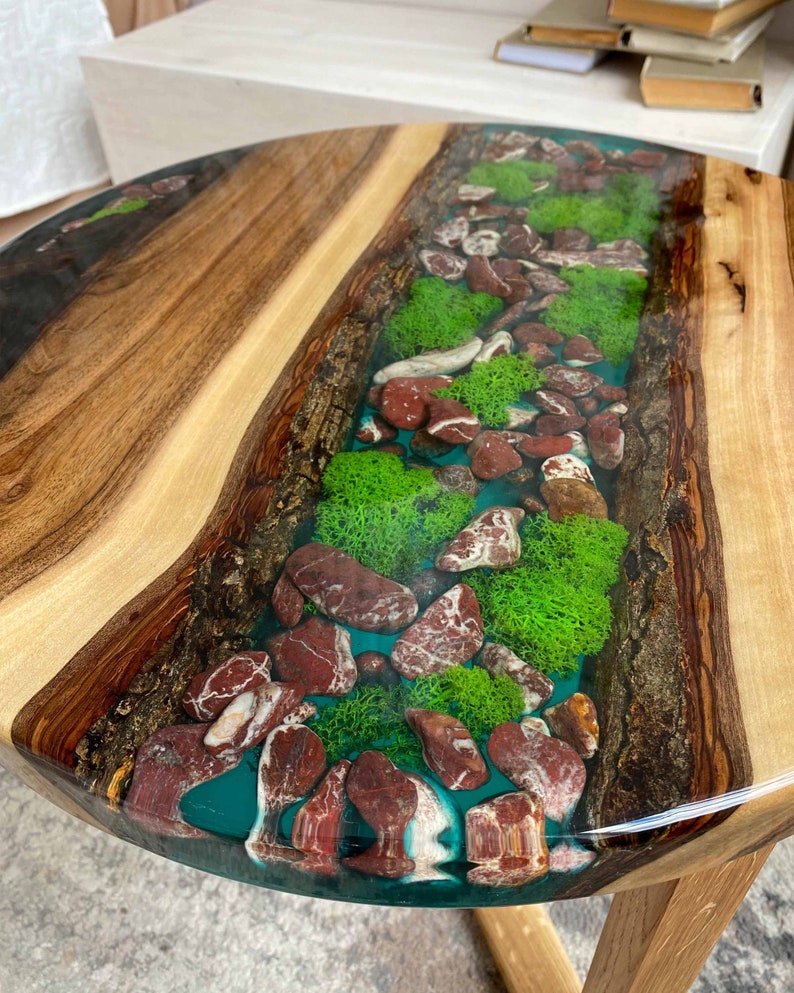 Image Source: Etsy
A resin table with moss and stones is a peaceful way to bring the outside inside. This table brings a touch of nature and earthy beauty into your home, evoking the peaceful beauty of a forest floor. Take some time to relax and enjoy the unique atmosphere created by this piece of utilitarian art.
Ideas to mull over:
Create a little piece of nature in your home by decorating a resin table with moss and stones to create a little ecosystem.
Achieve a show-stopping focal point by combining rustic and contemporary styles with a circular resin timber table, where natural textures meet cutting-edge design.
Enjoy the coziness of a gray wool carpet, which improves the look of your home while also keeping your feet warm.
A pinewood cabinet is an adaptable storage option that adds a touch of natural beauty to any room.
To create a relaxing reading corner that also reflects your personality, stock the cabinet with your favorite books.
Retro Glam Agate Resin Table with Realistic Details
Image Source: Smile Mercantile
A realistic table made of agate resin transports you to a world of '70s glitz. Brilliant hues, elaborate designs, and a hint of antiquity give this table the look and feel of a valuable jewel. Get lost in the luxurious combination of classic style and cutting-edge aesthetics.
Ideas to mull over:
Teak flooring is a luxurious and long-lasting option that will enhance whatever room it's installed in by providing a touch of natural elegance and refinement.
By painting the walls a warm shade of peach and framing them in bright white, you can give any room a welcoming and lighthearted vibe.
Slim resin round tables are a great example of contemporary furniture that blends minimalist beauty with practicality.
The sand, pebbles, and realistic brown and gray accents on the retro glam table top are a mesmerizing combination of nostalgia and inventiveness that will transport you back in time.
Epoxy Resin Table with Whimsical Effect
Image Source: Etsy
Let your creativity run wild with this table made of epoxy resin with a unique, quirky look. The unconventional design of this table is a result of its use of whirling patterns, bright colors, and fun textures. This intriguing and inventive piece of utilitarian art will transport you to a place of pure bliss as you unleash your inner artist.
Ideas to mull over:
Ceramic beige flooring is a neutral canvas that improves your room and provides a timeless and adaptable base.
Epoxy resin tables with a whimsical look are enchanting because they bring colors and textures to life in a beautiful tango.
A rectangular resin table in a variety of bright colors is an eye-catching focal point that will liven up any room.
Metal table legs, which are both stylish and practical, are a great way to give your furniture a boost that reflects today's taste and sensibilities.
Resin Table with Marbled Patterns
Image Source: Delicious And DIY
A resin table with beautiful marbled designs is a great way to spruce up any room. This table reflects the graceful beauty of marbling processes, resulting in a stunning contrast of colors and textures. Enjoy the mesmerizing charm of this work of art as it serves its intended purpose.
Ideas to mull over:
Use a resin table with marbles to combine the natural beauty of the outdoors with the sleek modernity of modern furniture.
Inject some creativity into your interior design with a resin table covered in eye-catching marbled designs.
The glittering gold pattern embedded in the resin table exudes grandeur and adds a bit of glitz to your living space.
Slim cyan chrome table legs are a contemporary and chic option, adding a splash of color and a hint of futuristic allure to any room.
Relax in royal style on a navy blue tufted couch, a showpiece that mixes style and comfort to create an opulent and welcoming ambiance.
White wool carpets are the epitome of comfortable elegance, adding warmth and a classic look to whatever room they grace.
Wooden floors provide a timeless and welcoming base for any area, while also enhancing its aesthetic value and providing a touch of rustic allure.
Frequently Asked Questions: FAQs
How can I get epoxy resin furniture?
You may shop for epoxy resin tables in home decor shops, museums, and online marketplaces. Many skilled artists and craftspeople provide made-to-order products.
What sets epoxy resin different from other table top materials?
Epoxy resin may produce a thick, glossy covering that is frequently more durable than standard finishes and can encase things inside the tabletop. For its one-of-a-kind visual and tactile effects, it is highly regarded.
In what ways might epoxy resin be difficult to deal with?
Temperature, humidity, and mixing ratios may all affect the behavior of epoxy resin. To prevent bubbles and other flaws, application must be done carefully and with the right ventilation and safety gear.
Do epoxy resin tables harm the environment?
While there are epoxy resins designed to be less harmful to the environment, selecting resins with low VOC (volatile organic compound) emissions is the best way to go green.
Are damaged epoxy resin tables repairable?
It is possible to fix minor damage by sanding it down and putting another thin coat of epoxy glue. However, expert repair may be necessary if there is significant damage.
Final Words
Ideas for using epoxy table resin open up a universe of possibility, one in which beauty and practicality may coexist in perfect harmony. These tables go above and beyond the call of duty by encapsulating the spirit of nature, design, and imagination in settings as varied as the depths of the ocean and the marvels of the cosmos. Spaces are transformed into museums of creativity because of their geode-like radiance, reflecting surfaces, and exquisite inlays.
Epoxy resin tables, whether they have a botanical or retro aesthetic, have a lot to say via their textures, colors, and histories. They encourage us to rethink our environments with every look since they are works of art that also serve a practical purpose.
Like what you just read? Well, we've got more ideas for you. Check these out:
Written By: Trisha Mae Raymundo